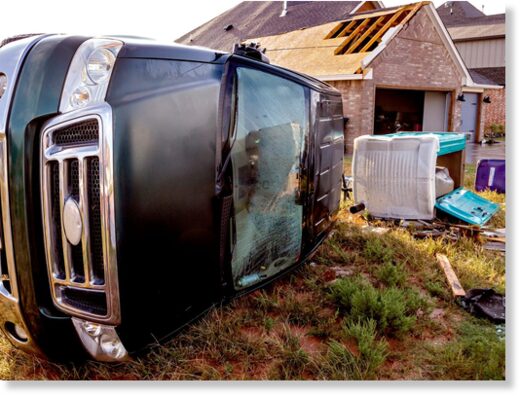 Multiple tornadoes touched down in Oklahoma and Kansas late Tuesday into Wednesday after days of
violent weather
damaged homes and businesses and knocked out power to thousands of people.
Many Oklahomans woke up to storm sirens as two likely tornadoes touched down in the Oklahoma City area Wednesday, according to the National Weather Service.
Oklahoma City Mayor David Holt said there were no reported injuries in the city, but some roofs were damaged. "All in all, we're okay!" Hold wrote on
Twitter Wednesday.
Two other suspected twisters touched down in the western part of the state, near Frederick and Clinton, about 85 miles west of Oklahoma City. The National Weather Service was surveying the area to confirm the intensity and scale of the tornadoes.
A twister in Clinton ripped off the roof of an auto repair shop and knocked over power lines and traffic signs. The Clinton Regional Airport reported 28 out of 29 hangars took damage; one collapsed on a plane and a vehicle. In Mustang, a vehicle was seen flipped over on its side near buildings with damaged roofs.