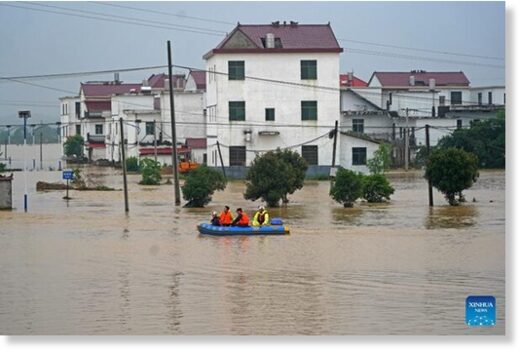 Nearly 500,000 people in Jiangxi have been affected as heavy rains lashed the province from Friday through Sunday, and about 14,000 of them have been evacuated, the provincial flood and drought control headquarters said on Sunday.
Southern China is facing a major flood challenge this year due to uneven distribution of rainfall.
As of 4 pm on Sunday, 497,000 people in seven cities in Jiangxi, including Fuzhou, Ji'an, Yichun and Xinyu, were affected and crops covering an area of 67,700 hectares damaged,
with the estimated direct economic losses being around 520 million yuan ($75.2 million), local authorities said.
According to the National Meteorological Center, most areas to the south of the Yangtze River were expected to receive heavy rain on Monday, and
the monthly precipitation was expected to approach or exceed the maximum rainfall ever recorded in May.