Earth Changes
WION
Mon, 24 Jan 2022 14:06 UTC
---
Richard Davies
Floodlist
Mon, 24 Jan 2022 12:36 UTC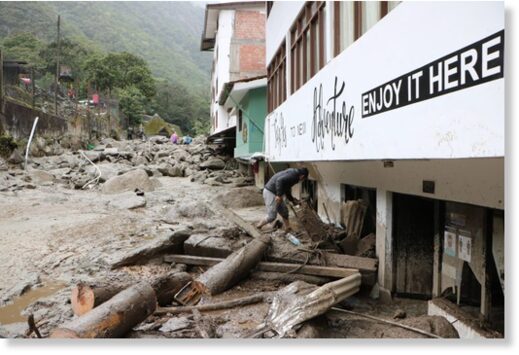 One person is missing and several were injured after heavy rain triggered floods and mudslides in the Cusco Region of Peru, including in the tourist town of Aguas Calientes. close to the Machu Picchu UNESCO World Heritage Site.
The Alcamayo River burst its banks early 21 January following overnight heavy rain, sending a torrent of mud, rocks and debris through the streets of Aguas Calientes.
As of 24 January, 1 person was reported missing, 4 injured and 5 displaced.
Five buildings and a bridge were destroyed. Several other buildings, bridges and stretches of road and railway line were also damaged
. Railway operations in the area were temporarily suspended. A team of 120 people made up of military, police, firefighters and local volunteers, continued to search for the missing person.
---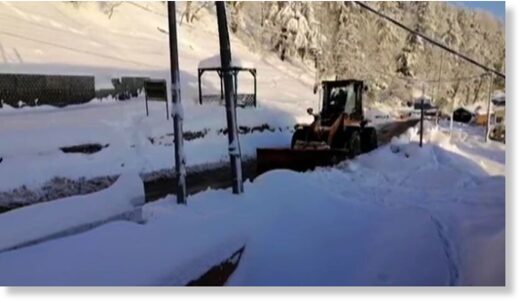 The snowfall in Galiyat, Murree and other upper parts of the country has stopped and down south, the cold in Karachi has intensified with the mercury dipping to the single digits.
The second spell of snow in Murree, Galiyat and other areas has stopped but the cold intensified. On Monday, the temperature of the northern areas was below -4 degrees Celsius.
Malkae Kohsar has received 3 feet of snow and Galyat 4 feet.
On the other hand, roads have been blocked in the six districts of Azad Kashmir because of snowfall and heavy showers.
Balochistan is also experiencing snowfall and rain. This winter Quetta has seen record-breaking snowfall, according to the Met Office.
A number of tourists headed to Hanna Lake, which has frozen over. But roads were blocked by snow. They have now been cleared, authorities have confirmed.
---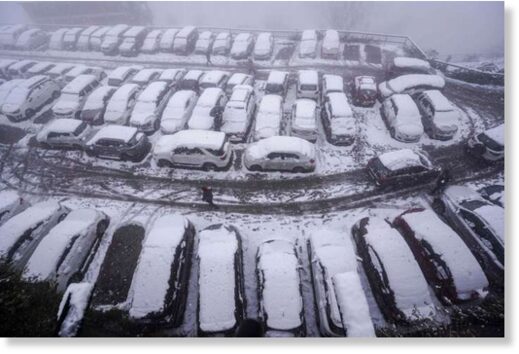 Heavy snowfall in the higher reaches of Himachal Pradesh since Saturday night has brought life to a standstill, particularly in tribal areas.
More than 730 roads, including four national highways, have been blocked for traffic due to the inclement weather.

Maximum 289 roads are closed in Shimla and 181 in Lahaul-Spiti.

Lahaul-Spiti superintendent of police Manav Verma said the Atal Tunnel, Rohtang (ATR) has been closed for traffic.

The Manali-Leh highway is closed for all types of vehicles (from Solang to Sissu) due to heavy snowfall in Lahaul Valley. There is almost three feet of snow in the Valley.
The weather is mostly cloudy
and snowfall is continuing,
he said.
Over 700 electricity transformers, mostly in Shimla, Lahaul-Spiti and Chamba have been hit due to the snowfall, causing the suspension of power supply in the remote areas. Over 100 water supply schemes have also been hit.
---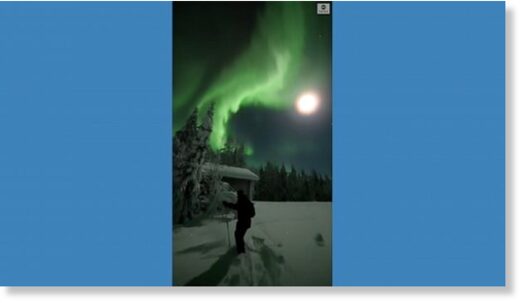 A skier in northern Finland was treated to a stunning display as the vivid aurora borealis and a bright moon shone in the sky early on Saturday 15 January. Jari Romppainen filmed the footage in Ranua, a municipality in the Finnish province of Lapland. According to Finland's national tourist site, the northern lights are visible for about 200 nights a year from Lapland.
---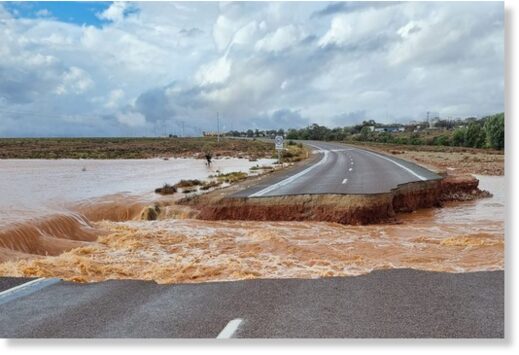 Rescue crews have been kept busy by outback floodwaters and record-breaking rains, which have continued to cause havoc in South Australia's north and west, washing away roads as well as cars.
The weather bureau said some locations had set "all-time records" in terms of rainfall
, while social media is awash with photos and videos of inundated highways.
Several people were rescued by the State Emergency Service (SES) after becoming trapped by floodwaters — including one who was swept 80 metres downstream and waited on top of his semi-submerged car for "at least four hours" as crews travelled to his remote location.
An entire section of the Olympic Dam Highway was also eroded between Pimba and Woomera, cutting off access from Roxby Downs.
---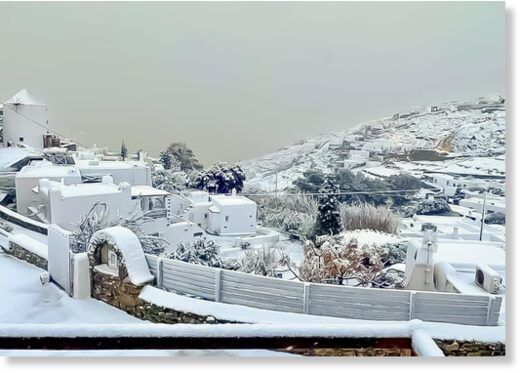 Mykonos woke up on Sunday covered in snow, a rare event on the cosmopolitan Greek island.
Locals say that the last time this amount of snow fell on Cyclades was decades ago.
Locals captured the fairytale scenes as snow covered the famous beaches of the island, such as Psarou, Super Paradise, and Elia.
---
---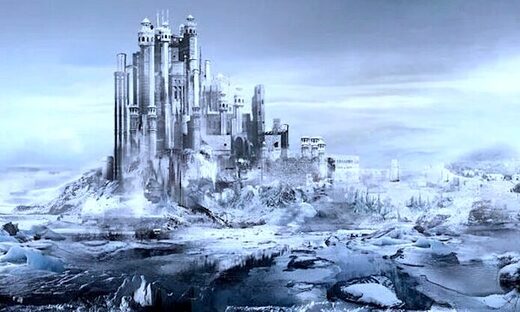 They're acting like this is new news, as if nobody had ever thought of it before: 'Scientists Discover A Warming Arctic Drove Earth Into The Little Ice Age'. They're even calling it "surprising".
As reported by
MSN
, following an era known as the medieval warm period
- so that did exist then...?
- temperatures in Europe in the early 15th century plunged in what has become known as The Little Ice Age (LIA).
This remarkable multicentennial period of cold brought increased glaciation to the mountains, an expansion of sea ice, crop failures, famines and disease across the European continent. Flip-flopping summers - with extremes at both ends of the spectrum - were chased by brutally harsh winters, during which rivers and canals routinely froze over. In the UK, for example, the first River Thames "frost fair" was held in 1608, and was an almost annual occurrence until the last one in 1814 - so before the AGW Party's proposed date for the start of the industrial revolution (≈1880)
when global temperatures supposedly began climbing due to increasing CO2 emissions
...[one day we'll laugh]...
There are, as there should be and as is healthy, numerous potential explanations for what caused temperatures to plummet during the LIA.
Top of the list are heightened levels of volcanic activity, reduced solar activity, and even the impact of the black death reducing the human population
-
Bill Gates' fave
.
But scientists
at the University of Massachusetts
believe they have found a "new" key factor
in why temperatures plunged to their coldest in 10,000 years
- and they're pretending like it hasn't already been covered by 'alternative' outlets for years:
"Surprisingly," the researchers say,
"the cooling appears to have been triggered by an unusually warm episode."
---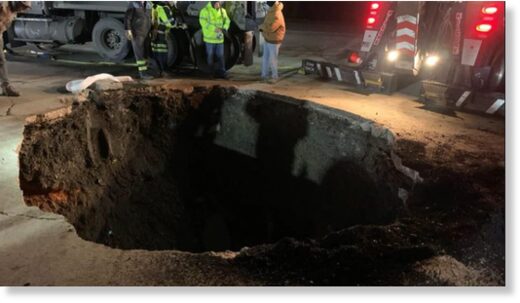 Crews in Birmingport are investigating after a dump truck fell inside of a sinkhole.
Officials with the Birmingport Fire Department say a man was eating lunch in the truck in the parking lot of a grocery store, when the ground gave way. The back end of the truck fell about six to eight feet. Officials say it looks like a culvert under the ground dropped away. Officials say there was some diesel leakage, but crews stopped most of it from getting into the creek near the road. No injuries have been reported.
The Jefferson County EMA and the Alabama Department of Environmental Management are investigating.
---