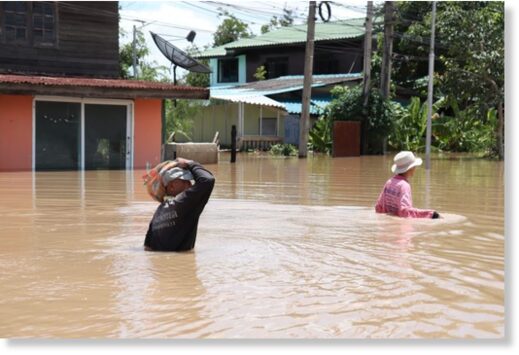 Disaster authorities in Thailand report dozens of provinces in the country have been affected by flooding after heavy rain over recent days brought by Tropical Storm Dianmu.
Thailand's Disaster Prevention and Mitigation Department (DDPM) reported flooding has affected 58,977 households across 27 provinces. Some of the affected areas had already seen flooding earlier this month after a period of heavy rain from 16 September brought by the Southwest Monsoon.
According to images and data from Thailand's Geo-Informatics and Space Technology Development Agency (GISTDA), the worst of the flooding is in northern and central regions.
In the north, Sukhothai province is the worst hit area with 7,392 households affected,
mostly in Sri Samrong, Khirimas and Muang districts, according to DDPM. Prime Minister Prayut Chan-o-cha visited flood-hit communities of Sukhothai's Sri Samrong district.