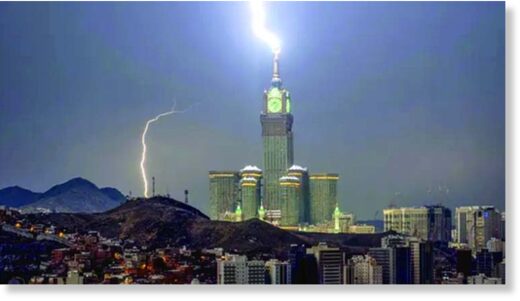 Saudi Arabia's Mecca, home to Islam's holiest sites, has seen extreme storms and rain that affected pilgrims, shuttered schools and caused chaotic scenes.
Videos online on Tuesday showed pilgrims who were doing the tawaf - circling the Kaaba - getting soaked and slipping on the floor as heavy rains thrashed and carried objects around.
As the rare scenes were unfolding at the giant black cube towards which all Muslims pray, another video showed a bolt of lightning striking the iconic Fairmont Makkah Clock Royal Tower hotel, illuminating the night sky on Tuesday.
Hussain al-Qahtani, spokesman for the National Center for Meteorology, posted on X, the social media platform formerly known as Twitter that the storm brought gale-force winds exceeding 80 kilometres (50 miles) per hour.