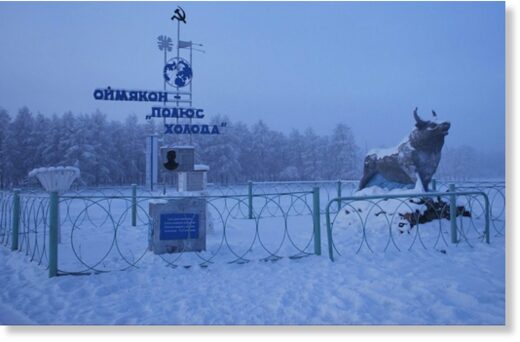 The lies of those with vested interests are being exposed — more and more people are realizing that the rules of humankind are malleable, that there is no fixed authority requiring religious-like adherence. The days of multinational conglomerates paying governments to push profitable falsehoods at the detriment of the human race are coming to an end. The average Joe, in enough numbers, can impart change — this epiphany is dawning on people, and it's giving me a shit-load of hope.
LOWS NEARING -40 SWEEP RUSSIA
As 'our betters' in Glasgow bemoan the impacts of global warming in, among other places, Siberia: "the planet's last great wilderness", northern Russia has actually been experiencing extraordinary lows for the time of year.
On October 31,
-36.8C (-34.2F)
was registered in Delyankir.
The infamous Verkhoyansk logged
-36.6C (-33.9F).
A frigid -
36.4C (-33.5F)
was observed in Susuman.
While Oymyakon took the cherry with a reading of
-38.9C (-38F) on Nov 1 — almost 10C below the seasonal average