Earth Changes
Forces Of Nature
YouTube
Fri, 09 Jul 2021 19:17 UTC
---
Storm Center
YouTube
Wed, 14 Jul 2021 18:21 UTC
---
Marshall Shepherd
Forbes
Tue, 13 Jul 2021 12:00 UTC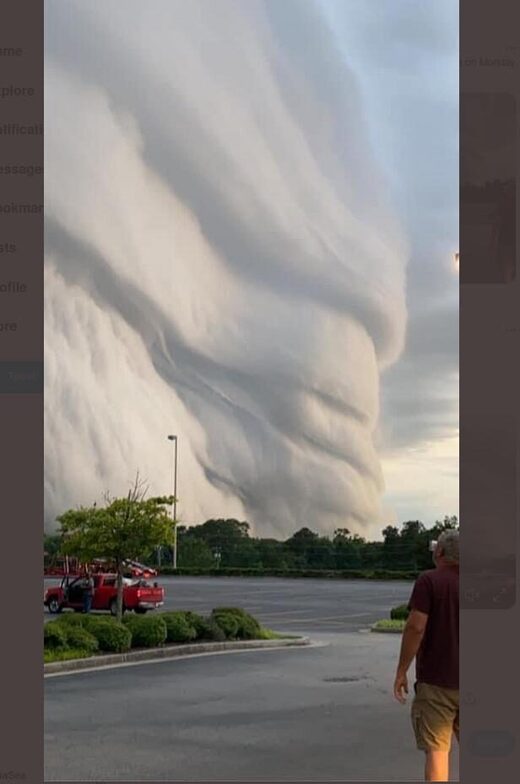 They were all in my social media feeds on July 12th, 2021. Pictures and videos of ominous looking clouds rolling into parts of North Georgia. People scurried from ball fields or homes and grabbed their phones to capture the moment. Jane Worley is a colleague of mine at the University of Georgia. The Northeast Georgia resident sent the picture below from River of Life Church in Nicholson, Georgia with the message, "Thought you would enjoy." Little did she know,
I was taking a picture of a shelf cloud rolling through my own subdivision 40 miles away
. What are these clouds anyhow?
---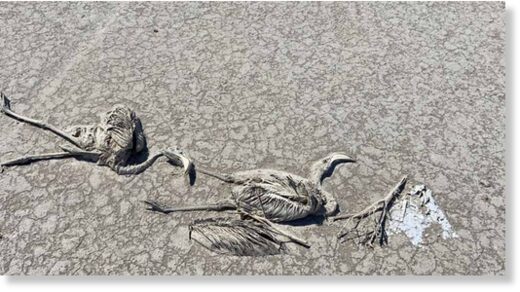 Hundreds of baby and adult flamingos were found dead on a dried part of Lake Tuz (Salt Lake) in the central Turkish province of Konya over the past week, prompting renewed emphasis on the impact of drought on the ecosystem.
The lake - the second largest in Turkey and one of the largest hypersaline lakes in the world - is among the favorite habitat of migratory animals and has long been a hatching ground for flamingos. Though it is shallow and gets little precipitation throughout the year, its salty nature is conducive to the nesting of migratory birds. However, the drought stemming from climate change has led to a recession of lake's waters, making finding food a challenge for flamingos.
Carcasses of birds now dot the lake's parts in the Cihanbeyli district of Konya. The birds had arrived to the lake in March for their incubation season. Mehmet Emin Öztürk, a nature photographer who is a frequent visitor to the area in the summer, says Lake Tuz had been "a paradise for flamingos, but now (it has) turned into a nightmare."
---
Gus Saltonstall
Patch
Mon, 12 Jul 2021 12:25 UTC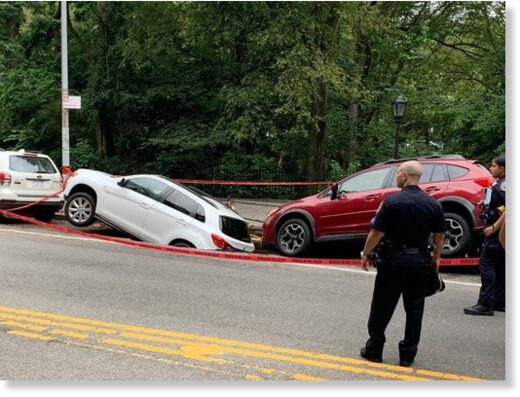 Two cars parked on the Upper West Side nearly took a one-way journey to the center of the earth this weekend when a sinkhole opened up and collapsed the street.
The sinkhole half-swallowed the two cars parked at West 97th Street and Riverside Drive on Sunday.
Mark Levine, a council member and the Democrat nominee for Manhattan Borough President, took to Twitter to comment on the scene, "But this yet another reminder: NYC simply must invest more in upgrading our outdated infrastructure."
The UWS sinkhole did not cause any injuries as there was nobody in either of the cars when it opened up, and the vehicles were removed by Sunday afternoon.
The cause of the sinkhole was unknown as of Monday morning, and the Department of Transportation is in the process of restoring the street.
---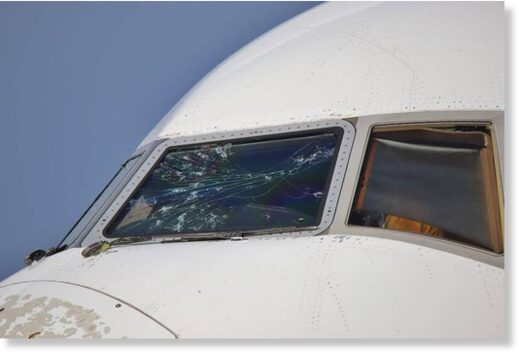 Storm leaves aircraft windows cracked and fuselage damaged but all passengers safe, says airline
An Emirates flight had to turn around shortly after take-off in Italy on Tuesday when a hailstorm damaged the plane.
Flight EK205 left Dubai for New York via Milan at 9.51am.
Minutes after take-off in northern Italy, a hailstorm forced the pilots to head back to Malpensa Airport as hailstones battered the aircraft.
No injuries were reported, Emirates said.
---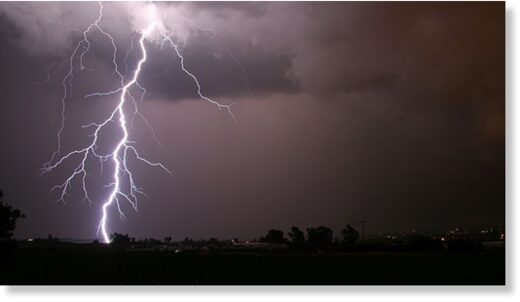 Six cows and a bull were killed after being struck by lightning at a farm in Pärnu County,
newspaper Maaleht reported on Tuesday.
Saareõue OÜ farm, which breeds and raises Aberdeen Angus cattle, lost seven animals - a bull, three cows and three one-year-old heifers - overnight during a thunderstorm. The owners are convinced they were killed by a lightning strike.
The owners discovered the animals under a tree where they had been sheltering and described the scene as looking like a horror movie.
"You think that such things happen somewhere in South America or the Amazon, but you can't think that it could happen on your farm," said Maarja Baumann, owner of Saareõue OÜ, who said the situation could never be prevented as it cannot be predicted where lightning will strike.
The farm now quickly needs to find a new breeding bull but finding one which meets the required standard may be difficult, the newspaper reported.
---
Christie Ileto, 6abc Digital Staff and Dann Cuellar
6ABC
Tue, 13 Jul 2021 17:52 UTC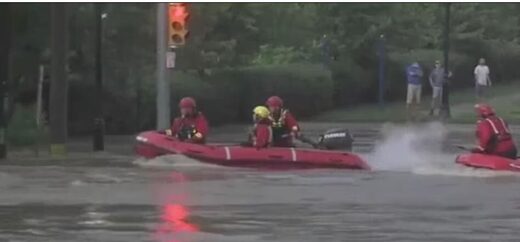 Parts of our region were swamped by a series of storms on Monday that the National Weather Service called a rare "flash flood emergency."
According to forecasters, Monday's storms dumped 6 to 10 inches of rain in just 3 to 4 hours, swelling the Delaware River in Bucks County, Pennsylvania, and Burlington County, New Jersey.
"Widespread and life-threatening flash flooding is occurring. This is an extremely dangerous situation," the weather service's Monday afternoon warning said. "Do not venture out unless it is an emergency or to move to higher ground."
The torrential rain flooded neighborhoods throughout Bucks County. The areas greatest impacted by the storm received 6"-10" of rain in around 3-4 hours. According to the NWS, this is estimated to be a
100-Year Flood
-- meaning each year there is about a 1% chance of seeing this much rain.
---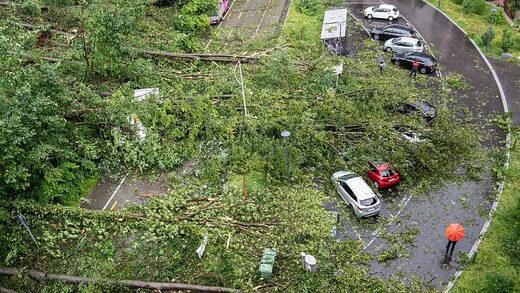 Heavy summer thunderstorms have caused widespread damage and flooding in Germany and Switzerland.
Swiss police reported that a local airport hangar in the southern town of Magadino had partially collapsed due to strong winds and heavy rain overnight. No injuries have been reported, but several planes were damaged, the authorities said.
Meanwhile, trees were blown onto roads and rail tracks in Zurich, causing travel chaos for commuters.
Switzerland has also warned citizens that several rivers could burst their banks, while some Alpine passes were temporarily closed due to heavy snowfall.
More than 4 centimetres of rain fell on Zurich overnight and over 3.1 centimetres of rain fell in just 10 minutes on nearby Waldegg
, according to broadcaster SRF.
---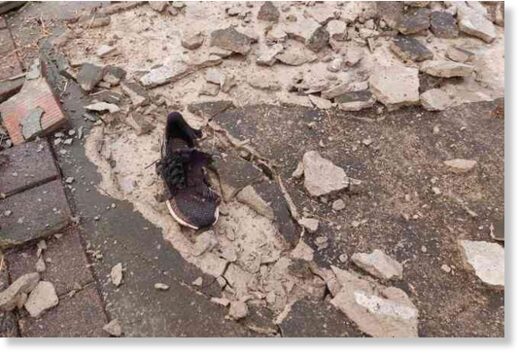 A man died after being struck by lightning while jogging when a thunderstorm hit the area in Miaoli City yesterday evening, July 13.
The Miaoli City Fire Department received reports that a man had been struck by lightening on a pathway atop the riverside levee bank opposite the National Miaoli Agricultural and Industrial Vocational High School at 6:25 pm.
Fire department paramedics found the 31-year-old man, named Liu, without vital signs, and with injuries consistent with that of a lightning strike. The concrete pathway where Liu lay was badly damaged, and one of Liu's sneakers had been blown off and was badly damaged.
Liu was bleeding from his ears, had abdominal bruising, and there were lacerations and a puncture wound to his right calf. Liu was rushed to hospital but was declared dead shortly after arrival.
---