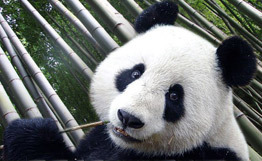 ©Unknown
A total of 19 giant panda cubs have been born in captivity in southwest China's Sichuan Province since the May 12 earthquake, state news agency Xinhua cited researchers as saying.
Zhang Zhihe, a leading national panda expert, said nine pandas were born in the devastated region of Wolong and 10 in the provincial capital, Chengdu. The cubs, including eight sets of twins, were born from July onwards.
Giant panda Guo Guo gave birth to twins in mid-July, becoming the first giant panda to give birth since the disaster, the agency said.