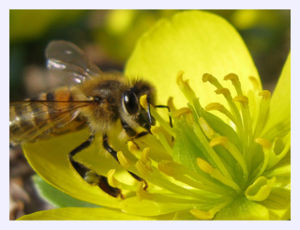 It was the buzz heard round the world. On Thursday, the front-page
New York Times
article
titled, "Scientists and Soldiers Solve a Bee Mystery" was supposed to close the book on a four-year long case involving the unexplained death of millions of honey bees nationwide. Instead, it has only brought more confusion, unanswered questions, and anger in the science and beekeeping communities.
In 2006, once thriving bee colonies across America suddenly vanished, leaving behind empty beehives. The bodies of the bees were never found. Scientists soon gave a name to the mysterious phenomenon: colony collapse disorder (CCD)
From 2006 to 2009, over one-third of beekeepers reported colonies collapsing accompanied by a "lack of dead bees," according to a survey conducted by the Apiary Inspectors of America (AIA).
In March 2007, James Doan, formerly the largest commercial beekeeper in New York, delivered an emotional testimony to the House Committee on Agriculture concerning the large-scale and mysterious loss of honey bee colonies, which he attributed to CCD.
"The economic impact on my operation is that it will cost me $200,000 to replace the honey bees that I have currently lost," Doan wrote in a letter. "If we cannot survive as a beekeeping industry here in this country, there will not be an agriculture community here in the U.S., period."
See, it's not just the beekeeping business that has something to worry about - the loss of honey bees affects all people. That is because honey bees pollinate food crops of all kinds.
They provide more than $15 billion in value to about 130 crops, including berries, nuts, fruits, and vegetables, according to the United States Department of Agriculture (USDA). And without honeybees to pollinate crops, our food supply is in danger.