Earth Changes
Nasa
Fri, 04 Apr 2008 18:47 UTC
---
Gonzalo Bell
UNICEF
Wed, 02 Apr 2008 18:00 UTC
More than 14,000 Ecuadorians are still in shelters after torrential rains flooded nearly half the country.

Rain and floods are not unusual in Ecuador's winter, but this year torrential rains have continued since early January, affecting 13 provinces - nearly half the country.

Floods are expected to last until May, prompting President Rafael Correa to declare: "This is not an emergency, this is a disaster. We don't have enough resources to assist the victims."
---
Rabies and distemper have been ruled out, but experts have not solved the mystery of Redding's dead skunks.

About 60 dead or dying skunks - and a fox and a raccoon - have been found in Redding since mid-February.

Having ruled out distemper and rabies, University of California, Davis, experts are looking at toxic substances or parasites as the cause of the animal deaths.
---
Hundreds of bacteria isolated from soil samples are able to live exclusively on antibiotics as a food source, according to a report published today (April 3) in Science.
---
Bees learn to recognise particular bushes, trees and flowers, according to scientists who say these insects are surprisingly sophisticated at navigating their natural environment.
The research, published in the latest issue of the
Journal of Experimental Biology
, shows that bee behaviour is not hard-wired as once believed.
Lead author Dr Adrian Dyer, an Australian vision researcher from Monash University in Melbourne, says bees can learn new tasks, despite their tiny brain size.
"This gives us a real insight into how neurones work and how neurones can interact and learn how to solve tasks," he said.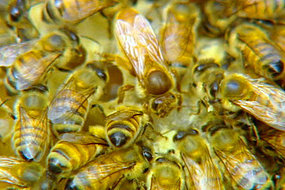 ©ABC
The research shows that bee behaviour is not hard-wired as once believed
---
Blame all the lightning strikes happening this summer on the Western Ghats and the Arabian Sea, say a team of scientists at the Centre for Earth Science Studies (CESS).

The two geographical structures that sandwich the state provide the temperature contrast that ultimately leads to the highest incidence of lightning in the country.

Though mountains are a major factor known for the formation of the cumulonimbus clouds (Cb) that cause lightning, R Vishnu, S Murali Das and G Mohan Kumar of the Atmospheric Sciences Division of the CESS have experimentally proved it.
---
An earthquake with a preliminary magnitude of 5.0 shook Tokyo buildings on Friday, but there were no immediate reports of injuries or damage.

The earthquake registered four out of seven on a Japanese scale of quake intensity, a government agency said, a level that suggests hanging objects would swing considerably but there was unlikely to be serious damage.
---
A 6.4 magnitude earthquake struck southern Iran on Friday, an official Iranian news agency reported but there were no immediate reports of damage or casualties.
---
If you live in Missouri and have a hummingbird feeder, now is the time to put it out. Observers in Arkansas and Kansas report seeing ruby-throated hummingbirds already.

Lanny Chambers, of Fenton, Mo., maintains a website that encourages birdwatchers from the Rocky Mountains to the Atlantic Ocean and from the Gulf of Mexico to Canada to report their first hummingbird sightings each year.

Sighting reports are posted daily at www.hummingbirds.net, so anyone who visits the site can follow the progress of the annual rubythroat migration.
---
A warmer world could be a more explosive one. Global warming is having a much more profound effect than just melting ice caps - it is melting magma too.
Vatnajökull is the largest ice cap in Iceland, and is disappearing at a rate of 5 cubic kilometres per year.
Carolina Pagli of the University of Leeds, UK, and Freysteinn Sigmundsson of the University of Iceland have calculated the effects of the melting on the crust and magma underneath.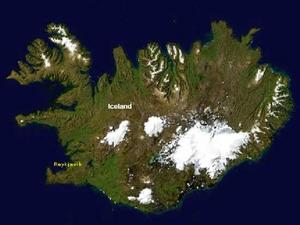 ©NASA
Vatnajökull in the south-east is the largest ice cap in Iceland and conceals several volcanoes
They say that, as the ice disappears, it relieves the pressure exerted on the rocks deep under the ice sheet, increasing the rate at which it melts into magma. An average of 1.4 cubic kilometres has been produced every century since 1890, a 10% increase on the background rate.
Frequent eruptions
In Iceland there are several active volcanoes under the ice. The last big eruption was in 1996 at Gjàlp, and before then in 1938 - a gap of 58 years. But Pagli and Sigmundsson say that the extra magma produced as the ice cap melts could supply enough magma for similar eruptions to take place every 30 years on average.
---