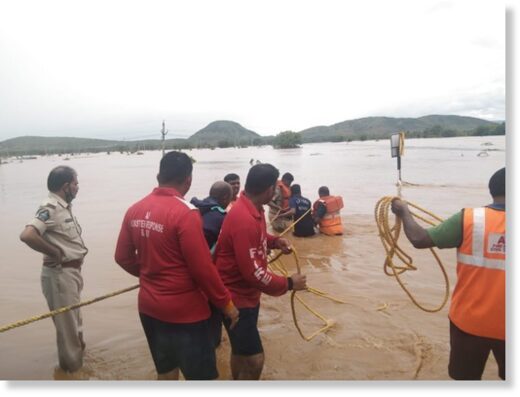 A depression over the southwest Bay of Bengal brought heavy rainfall to parts of Tamil Nadu, Puducherry and Andhra Pradesh in southeastern India from 16 November 2021.
At least 9 people have died in rain-related incidents in Tamil Nadu
. Hundreds of people have been evacuated or rescued by police, military and the National Disaster Response Force (NDRF) in Andhra Pradesh and Puducherry.
Andhra Pradesh
Teams from police, NDRF and military have responded to the worsening flood situation across several districts of Andhra Pradesh. Rescues and evacuations were carried out in Tirupati, Chittoor, Kadapa, Anantapur and Nellore districts.
The Cheyyeru dam in Kadapa district was reportedly breached or damaged, flooding nearby villages. Videos shared on Social Media showed bridges and buildings washed by the overflowing Swarnamukhi river in Tirupati. Workers were reportedly stranded by flood water from the Papaghni River near Vempalli, Kadapa district. Dozens of people were rescued after 3 buses were submerged by floods in Kadapa district.