Manila - Two landslides triggered by heavy rains buried more than 20 houses in a remote gold-mining village in the southern Philippines, leaving at least 11 people dead and 19 others missing, officials said Monday.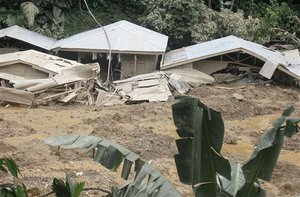 ©Unknown
Small stone houses and huts at the foot of the mountain village of Masara were destroyed Saturday by falling mud and rocks, killing six villagers and injuring 17 others. Another landslide struck the village early Sunday, killing five more people.
The landslides, which cascaded down a mountainside with frightening booms, buried about 28 houses and forced up to 5,000 people in Masara and nearby villages to run for their lives, said Mayor Voltaire Rimando.