Both Lucia and Steve McIntyre beat me on this story, so I'll defer to them. That's what I get for going to dinner with relatives last night and sleeping in.
Below is a plot from McIntyre showing the RSS data compared to UAH MSU. Both are down significantly in June 2009 with UAH MSU at .001°C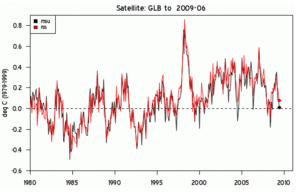 RSS is down from 0.090C in May 2009 to 0.075C in June 2009
Steve McIntyre writes a little parody of the issue: RSS June - "
Worse Than We Thought
"
Lucia actually expected RSS to climb and has an analysis
here
Even NCDC's director Tom Karl has something to say about satellite data, read on.
Both of the datasets are available in raw form if you want t plot for yourself.
RSS
(Remote Sensing Systems, Santa Rosa)
RSS data
here
(RSS Data Version 3.2)
UAH
(University of Alabama, Huntsville)
Reference:
UAH lower troposphere data