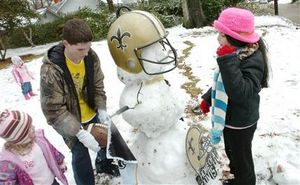 It took back-to-back blizzards to paralyze the nation's capital, but in the Deep South it only takes a couple inches of snow.
Flakes were falling - or threatened - Friday from Texas to the Florida Panhandle and then up along the coasts of Georgia and South Carolina, bringing a rare white landscape to spots that haven't seen snow in a decade or longer. The storm crawled out of Texas, where it left the Dallas area with more than a foot of snow, nearly 200 traffic accidents, thousands without power and hundreds of canceled flights.
Children in cities better known for stifling humidity took to throwing snowballs and building snowmen, while snow dusted the kudzu vines so prevalent in warm Southern climates.
Just the anticipation of an inch of snow was enough to close schools in the Florida Panhandle, while classes also were canceled in parts of Alabama and Georgia. Districts in Louisiana and Mississippi, also closed.