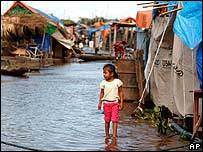 ©AP
Many tens of thousands have been forced from their homes
The Bolivian authorities estimate that some 60,000 families across the country have been affected by severe flooding, which has followed weeks of heavy rain.
The flood waters, which have killed at least 60 people, are threatening to inundate the Amazon city of Trinidad, sparking large-scale evacuations.
The government has declared a state of emergency in the worst-hit areas.