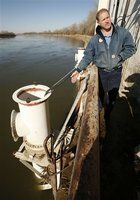 The problem is this: Parts of the nation's longest river are losing elevation. The so-called "degradation" process is not affecting the amount of water in the channel, but the water is physically lower on the Earth because the river bottom is washing away.
The water depth is not changing, and the situation is nearly imperceptible from shore. But for engineers, it's a costly headache.
"Part of the whole problem is it's not visible," said John Grothaus, chief of planning for the Army Corps of Engineers in Kansas City, where the river bed has dropped by about 12 feet over the last 50 years.
"It's not in the public eye. You can't see it on the river".