Earth Changes
KETV
Thu, 19 Jun 2008 13:45 UTC
---
One building and a corral burned today after dry lightning strikes ignited at least four grass fires that were nourished by strong wind gusts.

El Paso County Sheriff's Lt. Lari Sevene said authorities received at least six calls about 2 p.m. of fires in the area, roughly 15 miles east of Colorado Springs.

Sevene said deputies notified residents in a "a handful - maybe three or four" homes to evacuate or prepare to evacuate. No injuries to people or animals were reported.

Two of the fires were under control by 4 p.m. Wednesday.

As of 5:00 p.m., some 1,000 acres had been consumed by four separate fires.
---
MINA
Thu, 19 Jun 2008 03:56 UTC
---
Soldiers scrambled to shore up soggy levies with sandbags yesterday in southern China as forecasters warned that more heavy rain in the northern region could trigger flooding on the Yellow River, the country's second-longest.

At least 63 people have died and 13 are missing in this month's rain-driven flooding, the Ministry of Civil Affairs said in a statement yesterday. China's overall flood death toll for the year stood at 171 in 20 provinces and regions.
---
As the opening of the Olympic Games in Beijing draws near, spare a thought for a Chinese peasant named Yan. He lives in the mountains about an hour's drive north of the main Olympic Green, not far from the Great Wall. His village, Shijiayao, is wasting away.

That's because authorities in Beijing, bent on fueling the capital's epic growth, have commandeered nearly every drop of water they can pump from the surrounding countryside. Deprived of government help to drill wells or dam springs, Shijiayao's 30 inhabitants - all that's left of a population of about 300 peasants two decades ago - have no water to farm their terraced fields. They subsist on a rain-dependent crop and on raising a few scrawny donkeys, which they sell for cash or slaughter for meat.
---
WASHINGTON - As many as 30 more levees may overflow along the Mississippi River from Burlington, Iowa, down to St. Louis, the government said Wednesday. Twenty levees already have been topped by flood waters this week, the Army Corps of Engineers said. Twenty to 30 other levees could overflow if sandbagging efforts fail to raise the height of the structures.

The levees in danger protect rural, industrial and agricultural areas, not heavily populated towns. The levees protecting large towns are not as at risk of overflowing, officials said.

Record-breaking storms and flooding across six states this month are still forcing thousands of people to evacuate. Since June 6, there have been 24 deaths and 148 injuries because of the storms and flooding, according to federal briefing documents obtained by The Associated Press.
---
Nick Carey
Reuters
Wed, 18 Jun 2008 16:53 UTC
FORT MADISON, Iowa - The swollen Mississippi River ran over the top of at least 11 more levees on Wednesday as floodwaters swallowed up more U.S. farmland, adding to billion-dollar losses and
feeding global food inflation fears
.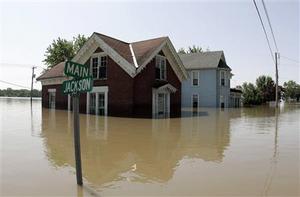 ©REUTERS/Frank Polich
Houses sit in flood waters from the Mississippi River in La Grange, Missouri June 18, 2008.
Volunteers and aid workers were piling sandbags up and down the most important U.S. inland waterway to try to protect more levees and thousands of acres of prime crop land threatened as the river's crest moves south after last week's torrential rains.
"Their misfortune had been our fortune. I'd rather it hadn't come at the expense of others. But it is what it is," Steve Cirinna of the Lee County Emergency Management Agency said of the levee breaches, which lowered the river.
---
Heavy rain and floods have claimed 171 lives across China, the China Daily newspaper said on Tuesday, quoting the Office of State Flood Control and Drought Relief Headquarters. (
VIDEO
)
It said the worst storms and floods to hit the country in decades had affected some 38.5 million people in 20 provinces, mostly in the south, with some areas experiencing their heaviest rainfall in 100 years. Around 1.3 million people have been forced to flee their homes.
Some 50 people are also missing and 2.2 million hectares of farmland has been flooded. Estimated economic losses are 26 billion yuan ($3.3 billion).
---
Cerro Gordo, Floyd and Franklin counties have been named federal disaster areas due to the recent flooding.
On Saturday, Cerro Gordo and Floyd counties were declared eligible for federal assistance to individuals and households.
On Friday, Cerro Gordo, Floyd and Franklin were declared eligible for federal funds for public assistance only.
Public assistance allows state and local governments and certain private nonprofit organizations to receive assistance on a cost-sharing basis for emergency work and the repair or replacement of facilities damaged by flooding.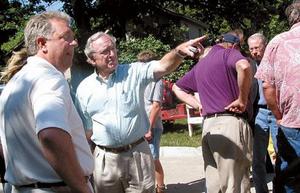 ©Globe Gazette photo by Mary Pieper
U.S. Sen Tom Harkin (second from left) visits with Tim Rozen while U.S. Sen. Charles Grassley (second from right) talks to Jim Kuhlman, Tim Stoltenberg and others during a visit to Mason City on Saturday. The senators were viewing damage along North Hampshire Avenue.
---
PARIS -- The world's oceans have warmed 50 percent faster over the last 40 years than previously thought due to climate change, Australian and US climate researchers reported Wednesday.

Higher ocean temperatures expand the volume of water, contributing to a rise in sea levels that is submerging small island nations and threatening to wreak havoc in low-lying, densely-populated delta regions around the globe.

The study, published in the British journal Nature, adds to a growing scientific chorus of warnings about the pace and consequences of rising oceans.

It also serves as a corrective to a massive report issued last year by the Nobel-winning UN Intergovernmental Panel on Climate Change (IPCC), according to the authors.



Comment: Don't put on your speedos and ray-bans yet... there is a whole other raft of evidence showing that the earth has stopped the warming cycle and is now cooling. And with the sun-spot activity at about zero, the chances of an ice-age are pretty good.


---