Earth Changes
USGS
Fri, 27 Jun 2008 09:43 UTC
---
USGS
Fri, 27 Jun 2008 09:31 UTC
---
Washington - A record 36 percent of U.S. commercial bee colonies have been lost to mysterious causes so far this year and worse may be yet to come, experts told a congressional panel Thursday.

The year's bee colony losses are about twice the usual seen following a typical winter, scientists warn. Despite ambitious new research efforts, the causes remain a mystery.

"We need results," pleaded California beekeeper Steve Godlin. "We need a unified effort by all."

The escalating campaign against what's generically called colony collapse disorder includes more state, federal and private funding for research. Publicity efforts are getting louder -- a costumed Mr. Bee was seen wandering around Capitol Hill this week -- and lawmakers are becoming mobilized.
Comment:
A flippant tone is used in the article that masks just how serious this issue is. See:
To Bee or not to Be
---
Joseph Galante
Bloomberg
Thu, 26 Jun 2008 12:00 UTC
Seth Belson remembers getting a phone call last month asking him to remove a bee swarm the size of a Volkswagen from a man's front yard in Merchantville, New Jersey.

The beekeeper found a mass of bees towering 50 feet (15 meters) above the ground. There was nothing he could do but wait for them to move on, he said.
---
HELENA - A video posted on the Web site of the U.S. Geological Survey captures remarkable interaction between a wolf and a family of 3 grizzly bears in Montana's Glacier National Park.

The wolf draws close to the cubs, only to be chased away by the youngsters and, more seriously, by their mother. But the wolf is not deterred, returning repeatedly for another run at the cubs in what looks like a tease.


---
Belgrade, Sarajevo, Zagreb, Skopje - Two people have died and hundreds have sought medical assistance as a summer heat wave grips the western Balkans.

A period of extremely warm temperatures started as of this weekend and will last at least three weeks, meteorologists in the region said. They warned that temperatures - even above 40 degrees Celsius - may be set creating temperature highs not seen in the last 100 years.
---
Cyprus will start importing water from Greece next week to help ease a drought, officials said Thursday.

Agriculture Minister Andreas Polynikis said Greece has agreed to sell 8 million cubic meters (282.5 million cubic feet) of water to Cyprus. He provided no financial details.

A dry winter has reduced Cyprus' water reserves in the island's dams to 7.5 percent of capacity - a third of last year's amount. In March, authorities imposed household water supply cuts.
---
An international team of researchers was able to provide evidence of explosive volcanism in the deeps of the ice-covered Arctic Ocean for the first time. Researchers from an expedition to the Gakkel Ridge, led by the American Woods Hole Oceanographic Institution (WHOI), report in the current issue of the journal
Nature
that they discovered, with a specially developed camera, extensive layers of volcanic ash on the seafloor, which indicates a gigantic volcanic eruption.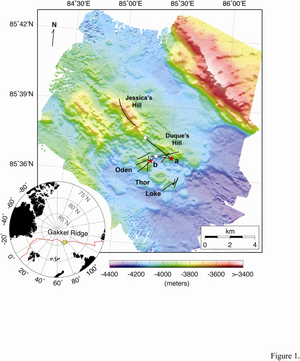 ©Helmholtz Association of German Research Centres
Bathymetric chart of the Gakkel Ridge at 85°E. Photographic bottom surveys were conducted along profiles shown as thin, black lines. The photo showing volcanic ashes on the sea bed were taken at the site, which is marked with a red star and the letter a.

---
Cape Codders by the hundreds were asking themselves and their fire departments Tuesday night, "What's that funny smell?"

An odor variously described as burning rubber, burning electrical outlets, burning car brakes and melting plastic was reported to fire departments from Eastham to Bourne.

Firefighters in full turn-out gear from department after department searched their towns with no luck. That is until around midnight, when a radio broadcast from the Barnstable County Sheriff's Department came up with a possible answer: temperature inversion.

Simply put, a temperature inversion can occur when an oncoming cold front pushes a warmer air mass in front of it, then sits on top of the warmer air mass, said Alan Dunham, a National Weather Service meteorologist in Taunton.
---
An earthquake measuring 5.0 on the Richter scale hit central Greece late Wednesday without claiming victims or causing damage, Athens Observatory said.
---