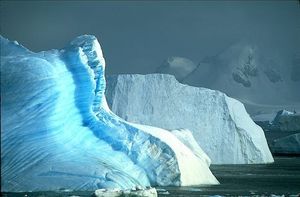 A deeply flawed new report will be cited ad nauseam by everyone from the BBC to Al Gore, says Christopher Booker.
The measures being proposed to meet what President Obama last week called the need to "roll back the spectre of a warming planet"
threaten to land us with the most colossal bill mankind has ever faced.
It might therefore seem peculiarly important that we can trust the science on which all the alarm over global warming is based, But nothing has been more disconcerting in this respect than the methods used by promoters of the warming cause over the years to plug some of the glaring holes in their scientific argument.
Another example last week was the much-publicised claim, contradicting all previous evidence, that Antarctica, the world's coldest continent, is in fact warming up, Antarctica has long been a major embarrassment to the warmists. Al Gore and co may have wanted to scare us that the continent which contains 90 per cent of all the ice on the planet is heating up, because that would be the source of all the meltwater which they claim will raise sea levels by 20 feet.
However, to provide all their pictures of ice-shelves "the size of Texas" calving off into the sea, they have had to draw on one tiny region of the continent, the Antarctic Peninsula - the only part that has been warming. The vast mass of Antarctica,
all satellite evidence has shown, has been getting colder over the past 30 years
. Last year's sea-ice cover was 30 per cent above average.