Earth Changes
Anthony Watt and Bill Mayeroff
qconline.com
Thu, 06 Mar 2008 18:12 UTC
---
U.S. Forest Service scientists believe an Oregon State University graduate student working on a cooperative project with the agency's Pacific Southwest Research station on the Tahoe National Forest has photographed a wolverine, an animal whose presence has not been confirmed in California since the 1920s.
Katie Moriarty, a wildlife biology student, was conducting research on another carnivore called the American marten when a remote-controlled camera she set photographed the animal on February 28, 2008. Forest Service scientists who are experts at detecting rare carnivores believe the photographed animal is a wolverine.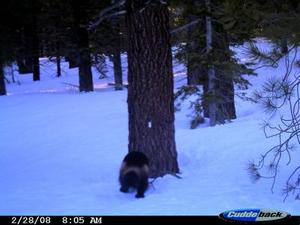 ©US Forest Service, Oregon State University photo
Scientists believe a wolverine was photographed with a remote-controlled camera on Feb. 28 on the Tahoe National Forest. Evidence of wolverines in California has not been scientifically verified since the 1920s.
---
Barometric pressure could break all time record of 925mb

Weather forecasters are warning that a potentially fierce and damaging storm may hit Britain Sunday night and Monday morning.

Both the weather division of the Press Association, Meteogroup UK, and the Met Office said they were receiving reports that a band of exceptionally low pressure coming in from the west of the UK could bring heavy rain and bad weather.
---
---
A bird species not seen for 80 years has been rediscovered near Papua New Guinea, experts said Friday. The Beck's petrel, long thought to be extinct, was photographed last summer by an Israeli ornithologist in the Bismarck Archipelago, a group of islands northeast of New Guinea.

Hadoram Shirihai, who was leading an expedition to find the bird, photographed more than 30 Beck's petrels. Shirihai's photographs and his report were published in "The Bulletin of the British Ornithologists' Club" on Friday.
---
The number of snow leopards in Russia's southwestern Siberian Altai Republic has fallen from 40 in the late 1990s to 10-15, the director of the Gorny Altai nature preserve said on Friday.

Russia has an estimated total of 100 large mountain cats, which are in the Red Book of Endangered Species.

Sergei Spitsyn said the main reason is an insufficient number of forest rangers and rampant poaching, adding that local residents often see helicopters that are used for illegal hunting.
---
Andre Vornic
BBC
Fri, 07 Mar 2008 17:39 UTC
Vietnam has banned the sale and possession of hamsters, whose popularity has been soaring.

The Ministry of Agriculture says anyone caught with a hamster will be fined up to 30m dong ($1,900) - almost double the average annual wage in Vietnam.

The authorities say the creatures are a potential source of disease.

Officials have also expressed concern that the animals are imported from China and Thailand without proper licensing or controls.
---
Michael Peltier
Reuters
Fri, 07 Mar 2008 16:01 UTC
Tornadoes cut through Florida and Georgia on Friday, blowing homes off foundations, felling power lines and snapping majestic oak trees as a record series of winter tornadoes continued to pound the United States.
---
Let's start with some possible news from Heartland Institute's
International Climate Change Conference
. In the context of man-made global warming, climate sensitivity asks how much temperatures increase if one adds a specified amount of a greenhouse gas. In general, most climatologists accept the proposition, all things being equal, that if one doubles carbon dioxide in the atmosphere the average temperature will go up by +1 degree centigrade. But all things are not equal. In climate models, additional heat from carbon dioxide boosts atmospheric water vapor which in turn acts as a greenhouse gas. All models are dominated by this positive feedback loop. As a consequence, the U.N.'s Intergovernmental Panel on Climate Change (IPCC) estimated in its Fourth Assessment Report (4AR) last year that it "is likely to be in the range 2 to 4.5°C with a best estimate of about 3°C, and is very unlikely to be less than 1.5°C." In other words, doubling carbon dioxide in the atmosphere is likely to warm the planet by between 2 degrees and 4.5 degrees centigrade.
---
Two earthquakes measuring 5.1 Richter each hit the Dodecanese island of Rhodes yesterday. The tremors were felt within minutes of each other. The first was recorded at 6.11 p.m. and the second just three minutes later. No damage or injuries were reported.
---