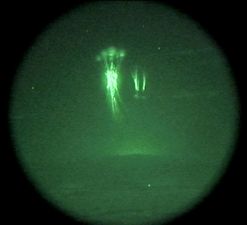 Over 90% of UFO sightings can be easily explained, and are usually visual misinterpretations of meteors, weather balloons, a flock of birds, blimps, or even the Moon. Here's one more to add to the list of items mistakenly identified as UFO's: sprites. No, not the elf or troll-like sprites, but a natural phenomenon which occurs during thunderstorms. "Sprites appear above most thunderstorms," said Colin Price of the Tel Aviv University, "but we didn't see them until recently. They are high in the sky and last for only a fraction of a second."
While there is much debate over the cause or function of these mysterious flashes in the sky, Price says they may explain some bizarre reports of UFO sightings.
Sprites are described as flashes high in the atmosphere, between 35 and 80 miles from the ground, much higher than the 7 to 10 miles where regular lightning bolts usually occur.
"Lightning from the thunderstorm excites the electric field above, producing a flash of light called a sprite," explained Price, head of the Geophysics and Planetary Sciences Department at Tel Aviv University. "We now understand that only a specific type of lightning is the trigger that initiates sprites aloft."