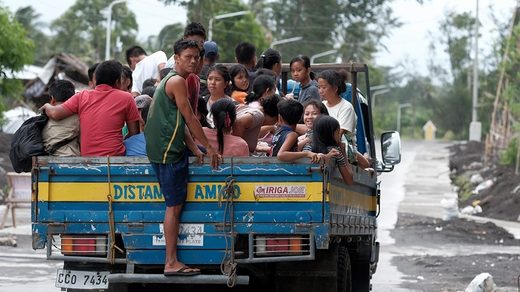 Typhoon Kammuri has made landfall in the central Philippines, at the southern end of Luzon island.
At least 200,000 residents have been evacuated from coastal and mountainous areas over fears of flooding, storm surges and landslides.
Some events at the Southeast Asian Games, which opened on Saturday, have been cancelled or re-scheduled.
Operations at Manila airport
were suspended
for 12 hours starting 11:00 on Tuesday (03:00 GMT).
One Canadian traveller who arrived in Manila from the central island of Cebu on Monday said it was "the most turbulent flight" she ever took.
"I just discovered what airsickness is," Constance Benoit, 23, told the AFP news agency.
Typhoon Kammuri, locally named Tisoy, made landfall in Sorsogon province, and is said to have sustained winds of up to 155km/h (96mph), with gusts of up to 235km/h.
Storm surges
of up to three metres (nearly 10ft) are expected
, the weather service said