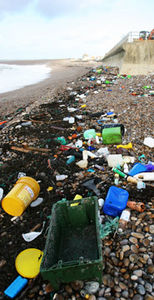 Britain's beaches are more littered than at any time since records began, according to a report published today by the Marine Conservation Society.
An average of 2,195 pieces were found for every kilometer cleaned in the society's Beachwatch project last year, more than two items per meter and more than double the amount found in the first clean-up in 1994.
The amount of plastic rubbish found had tripled in the same time and made up about 60 per cent of the waste recovered, said Emma Snowdon, the project's coordinator.
South West England was the worst affected area, with almost 5,000 pieces of litter on every kilometer of beach. Almost 40 per cent of the litter was discarded by beach users.