Earth Changes
The first uniform statewide earthquake model forecasts at least one big one in next 30 years, says a new study.
---
The world's beaches and shores are anything but pristine. Volunteers scoured 33,000 miles of shoreline worldwide and found 6 million pounds of debris from cigarette butts and food wrappers to abandoned fishing lines and plastic bags that threaten seabirds and marine mammals.

A report by the Ocean Conservancy, to be released Wednesday, catalogues nearly 7.2 million items that were collected by volunteers on a single day last September as they combed beaches and rocky shorelines in 76 countries from Bahrain to Bangladesh and in 45 states from southern California to the rocky coast of Maine.
---
Last year on Earth Day, we were treated to a full-page homage piece that honored the environmentalist cabal.
---
USGS
Wed, 16 Apr 2008 09:51 UTC
Magnitude 6.5

Date-Time
* Wednesday, April 16, 2008 at 05:54:23 UTC
* Tuesday, April 15, 2008 at 08:54:23 PM at epicenter
* Time of Earthquake in other Time Zones

Location 51.947°N, 179.117°W
---
Jakarta, Indonesia - A volcano in eastern Indonesia spewed ash and smoke 2 1/2 miles into the sky, forcing the evacuation of hundreds of nearby villagers, officials said Wednesday.
---
---
Stepping precariously out on a limb, ProtectAmerica.org predicts that California will suffer a severe earthquake! Panic is recommended.

Comment: Notice who is heading up this organization. The former director of FEMA and a former deputy secretary of Homeland Security. And, true to form for those organizations, the best they can come up with is this. Just how much did they get paid to produce this report?

Only counting the earthquakes that have caused loss of life in California since the 1800's, one can be expected on average about every 16.5 years. Given that the Northridge quake happened in 1994, another might be expected somewhere in California by 2010.

This is the sort of report that is produced for no other reason that to keep people on edge. Be afraid...be very, very afraid! That is the message.


---
UK - A plague of mice is infesting part of Preston, residents say.

Homeowners in parts of Frenchwood say they are under siege from the disease carrying rodents.

Residents in at least five streets in the area have reported sightings of mice in their homes.

Last week the Evening Post told of the concerns of some residents of Manchester Road, Frenchwood, who claimed to have spotted mice scurrying through their kitchens, living rooms and even their bedrooms every day.
---
Uruguay - Lake Cachet 2 next to a glacier in the south of Chile, which last week swelled and then suddenly emptied is gradually recovering according to Chilean authorities from the Natural Waters System Office, DGA.

Apparently the water bored an 8.5 kilometer tunnel through the glacier and finally emptied into the Baker River causing a mini "tsunami" along its course. Fortunately no one was injured.
---
Bubonitsy, Russia - In the forest of the Tver region of Russia, researchers from IFAW (the International Fund for Animal Welfare) and veterinarians from the Moscow Zoo have returned five orphaned bear cubs to the wild. Prior to the release, the team performed veterinary checks and tagged the bears for monitoring.
One of these bears will be monitored using a satellite collar, a step forward in evaluating post-release behavior and survival of the bear cubs orphaned by the cruel winter den hunt in Russia.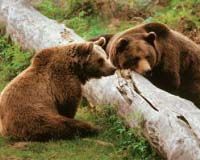 ©Unknown
The satellite technology transmits regular signals from the bears collar allowing researchers to follow them remotely and download information about their movements and whereabouts via internet updates three times a week. The collar is programmed to record information about the animals location every 90 minutes and to automatically drop-off after a period of 18 months.
---