Earth Changes
---
Ten persons have sought medical assistance in Nevelsk on Sakhalin Island after the Sunday morning earthquake measuring four points on the Richter scale.

---
Thousands of villages in India's Bihar state have been flooded for the last two weeks, but one hamlet has been under at least a foot of water for the last 12 years. Since 1995, Barabih residents have either got used to living with floods, or left. In fact about 75 percent of the population has fled, leaving behind 1,400 hardy souls.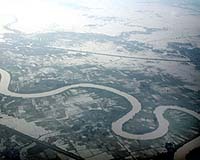 ©AFP
Experts blame the plight of villages like Barabih on the haphazard construction of anti-flood embankments in Bihar, which has a reputation as one of India's most lawless, corrupt and impoverished states. In 1952, Bihar had 160 kilometres of embankments and the flood-prone area was 2.5 million hectares, said development expert Eklavya Prasad. "But by 2002 the state developed 3,430 kilometres of these structures and the flood-prone area extended up to 6.88 million hectares," Prasad told The Hindustan Times.
---
A powerful 7.5-magnitude earthquake that shook Indonesia's main island of Java early Thursday, including the capital Jakarta, could trigger activity at some of the island's many volcanoes, experts said. The undersea quake, centred about 110 kilometres (70 miles) east of the capital Jakarta and off the north coast of Java, occurred just after midnight (1700 GMT), rattling buildings and sending panicked residents onto the streets.
---
Michael Asher
DailyTech
Sat, 11 Aug 2007 07:59 UTC
My
earlier column
this week detailed the work of a volunteer team to assess problems with US temperature data used for climate modeling. One of these people is Steve McIntyre, who operates the site
climateaudit.org
. While inspecting historical temperature graphs, he noticed a strange discontinuity, or "jump" in many locations, all occurring around the time of January, 2000.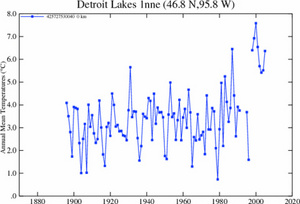 ©DailyTech
An example of the Y2K discontinuity in action (Source: NASA Goddard Institute for Space Studies)
Comment:
If you're trying to connect to Climate Audit and get a connection error it's because the site seems to be suffering a DDOS attack:
Dear CA reader

CA has been knocked off the internet by a DDOS attack. We are going to move the CA domain to a temporary page while I move the CA files and databases to a new server behind a much better firewall.

Its obvious that someone can't take constructive criticism.

We should be back in a few days. If someone would like to spread this information around to various blogs and shady mailing lists then I'm sure Steve would appreciate it.

John
---
More than 40 people have been reported killed as torrential monsoon rains battered south Pakistan, local media reported Saturday.

Hardest hit was the province of Sind, where at least 36 people have died in the past two days. Several neighborhoods of the provincial capital Karachi have been flooded, and water and electricity supplies have been cut.

Another five people were reported to have died in the province of Belujistan.
---
A powerful magnitude-7.5 earthquake under the Java Sea rattled Indonesia's capital early today, violently shaking tall buildings and sending panicked residents into the streets.

There were no immediate reports of damage, and geophysicists said there was little risk of a tsunami. The quake was centered about 65 miles east of Jakarta at a depth in the Earth of 180 miles, the U.S. Geological Survey said.
---
AFP
Sat, 11 Aug 2007 06:31 UTC
Natural weather variations have offset the effects of global warming for the past couple of years and will continue to keep temperatures flat through 2008, a study released Thursday said.

But global warming will begin in earnest in 2009, and a couple of the years between 2009 and 2014 will eclipse 1998, the warmest year on record to date, in the heat stakes, British meteorologists said.

Existing global climate computer models tend to underestimate the effects of natural forces on climate change, so for this analysis, Met Office experts tweaked their model to better reflect the impact of weather systems such as La Nina, or fluctuations in ocean heat and circulation.
---
A storm system spawned tornados as it swept across the upper Midwest and into Pennsylvania, killing at least one person, flooding basements and leaving thousands of homes and businesses without power early Friday.
In western Pennsylvania, Allegheny County and Pittsburgh officials declared a state of emergency as residents dealt with flooding and damage from the torrential downpours.
The worst damage in Ohio was across the north-central part of the state, where the National Weather Service confirmed a tornado in Shelby and were investigating tornado reports in several counties, meteorologist Walter Fitzgerald said.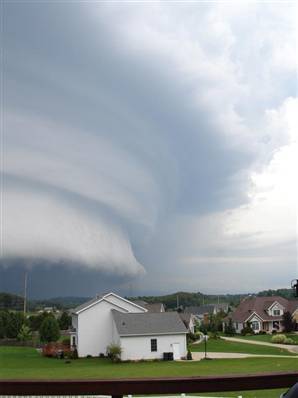 ©Richelle via WKYC
NBC affiliate WKYC obtained this storm photograph from a viewer who said it was taken over Richland County, Ohio, on Thursday. The formation is known as a supercell, a well organized and notably intense thunderstorm.
---
Summer thunderstorms become much more fierce when they collide with a city than they would otherwise be in the open countryside, according to research led by Princeton engineers.

Alexandros A. Ntelekos and James A. Smith of Princeton University's School of Engineering and Applied Science based their conclusion on computer models and detailed observations of an extreme thunderstorm that hit Baltimore in July of 2004.

Their modeling suggests that the city of Baltimore experienced about 30 percent more rainfall than the region it occupies would have experienced had there been no buildings where the city now sits.

While thunderstorms are thought of as being purely forces of nature, the Princeton research suggests that man's built environment can radically alter a storm's life cycle.
---