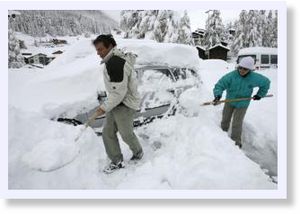 Clad in salopettes and woolly hats, skiers swished effortlessly downhill yesterday as nervous beginners concentrated hard on their snow-ploughs. OK, so this was a dry slope in Sheffield, but dozens of those on the artificial piste are gearing up for the real thing and booking pre-Christmas breaks to the Continent and North America.
Because snow is already falling,
Europe, the US and Canada are experiencing colder weather than the seasonal norm.
That means two things for Britain's 1.3 million ski enthusiasts: the prospect of early trips to the slopes, and the promise of a longer season.