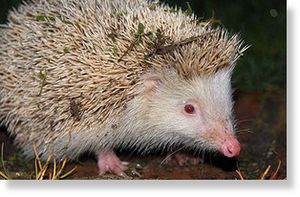 London -- A British couple say they took a rare albino hedgehog they found to a wildlife sanctuary to protect it from predators.
Julie Packham of Kent county said she and her husband, Nick, spotted the hedgehog in their garden because its white color made it stand out in the dark,
The Daily Telegraph
reported Friday.
"We saw this white hedgehog and could not really believe our eyes. He was literally glowing in the dark," Packham said about the spiny nocturnal animal the couple dubbed Midnight.
Packham said fearing the rare animal would eventually be attacked by predators in the area, she and her husband drove 250 miles round-trip to the Tiggywinkles Wildlife Hospital.