WINFIELD. - A corner of an earthen levee broke Friday, releasing Mississippi River waters that officials predicted would "ultimately inundate" part of a Lincoln County town.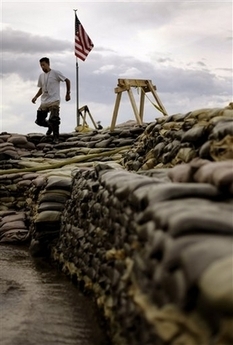 ©AP Photo/Jeff Roberson
Rick Yeomans walks atop a massive wall of sandbags holding back floodwaters from the Mississippi River as he checks pumps along the wall Thursday, June 26, 2008, in Clarksville, Mo.
The National Weather Service said in a flash flood warning issued at 5:55 a.m. that it was unknown how fast the water was moving. It was also uncertain about the condition of the rest of the Pin Oak Levee at Winfield, about 45 miles northwest of St. Louis.
The surrounding rural area is also expected to flood.
Andy Binder, spokesman for Lincoln County emergency management operations, had said Thursday that the Pin Oak levee was holding but showing signs of strain. It was protecting about 100 homes in Winfield, numerous businesses and thousands of farm acres.