A typhoon was churning off the Japanese coast Friday after injuring 18 people and forcing thousands of people to flee their homes, officials said.
Typhoon Usagi cut across the island of Kyushu and the tip of the main island of Honshu overnight and moved into the Sea of Japan (East Sea) early Friday while slowly weakening, the Japan Meteorological Agency said.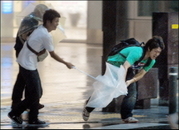 ©AFP
People walk against strong wind at Fukuoka city in Japan's southern island of Kyushu.