Earth Changes
Storm Center
YouTube
Sun, 13 Jun 2021 11:12 UTC
---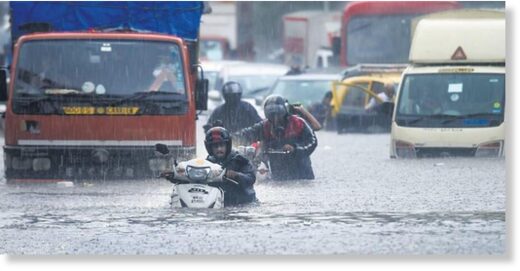 Mumbai received about 60 millimetres of rainfall in an hour on Wednesday, leading to waterlogging in several places including Hindmata, Milan Subway and Sion. The flooding of the railway tracks led to brief suspension of suburban rail services.
Mayor of the Brihanmumbai Municipal Corporation (BMC) Kishori Pednekar blamed the railways for the flooding of the tracks and the adjoining areas. Pednekar said the Central Railway did not cooperate with the BMC, and therefore, the BMC could not conduct cleaning works in the nullahs and the adjoining areas that fall under the railways' jurisdiction.
However, the Central Railway refuted her claim. Its spokesperson Shivaji Sutar said they have been in touch with the BMC officials to deliver the best possible services to the passengers. Maharashtra Chief Minister Uddhav Thackeray visited the BMC's disaster management room to take stock of the situation. BMC chief Iqbal Singh Chahal and Pednekar visited Hindmata.
Comment:
Another
video report
for June 10 states:
The wet spell that began with the onset of monsoons on Wednesday has given Mumbai 94% of its June rain so far. The showers continued, albeit way more moderately, on Thursday in the city even as the southwest monsoon covered the entire state.

The IMD has forecast heavy rain (orange alert) at isolated places in the city for the weekend. An alert for extremely heavy rain has been issued for Monday.


---
Claire Gilbody-Dickerson
Mirror
Fri, 11 Jun 2021 10:47 UTC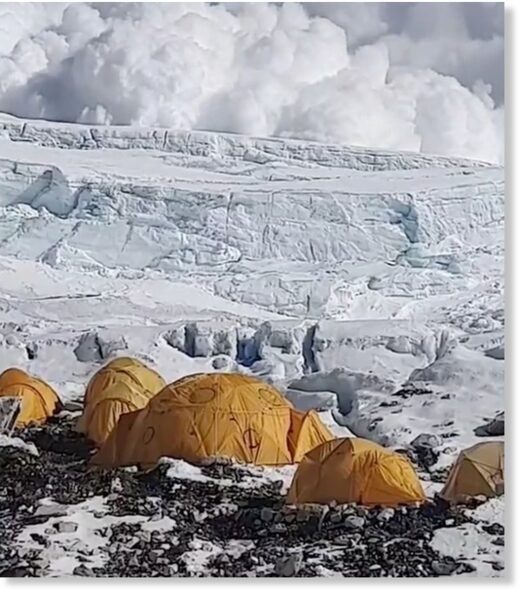 Frightening footage captures the moment an avalanche narrowly misses a group of visitors on Mount Everest as it crashed down and headed right towards them.
The dramatic video shows how part of the trail on the Himalayan peak collapsed, creating a snow slide headed straight towards the group of tourists.
The group were setting up camp when they narrowly escaped being buried by the avalanche in Nepal on June 1.
Footage shows the massive cloud of ice tumbling down the white mountain before it luckily slowed after hitting rocky parts.
No one was hurt in the incident. The group inspected the area for safety after the avalanche.
---
JON HAWORTH
6abc.com
Sat, 12 Jun 2021 10:29 UTC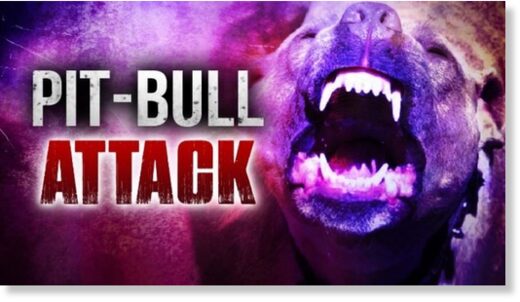 A 3-year-old boy has died after falling out of a window at his family home and being mauled to death by the family's two pit bulls when he landed in the backyard.
The incident occurred at approximately 5:30 p.m. on Thursday in Elizabeth, New Jersey -- about 6 miles south of Newark -- when police say the boy somehow managed to fall out of a window, landed in the backyard of the family home and was subsequently and savagely attacked
by the family's two dogs,
according to New York City ABC station WABC.
Neighbors say that the mother immediately reacted and went to rescue her son but that it was a horrendous scene as she tried to pull the dogs off of the little boy.
"I saw the mother, she was full of blood in her hands, her shirt," neighbor Maria Rocha told WABC in an interview after the attack. "And I was like, 'what happened?' so I came here because it was full of police and she told me, 'My baby, my baby, I went to the bathroom and my baby fell out the window.'"
---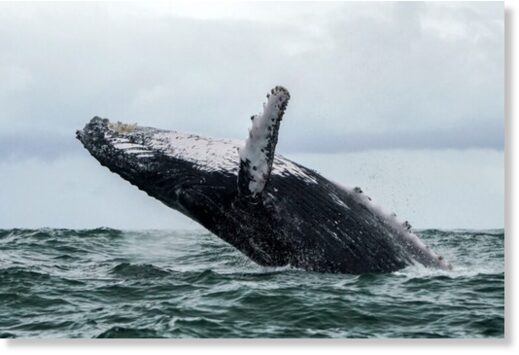 A US lobster diver thought he was going to die after getting caught in the mouth of a humpback whale before it surfaced and spat him out.
Michael Packard, 56, was diving off Cape Cod in Massachusetts on Friday and about 45ft below the surface when he found himself inside the closed mouth of the giant creature.
He spent 30-40 seconds inside it before escaping "very bruised" but otherwise unharmed.
Describing the terrifying ordeal the diver said he "felt this huge bump, and everything went dark" and initially thought he'd been attacked by a shark but then realised he couldn't feel teeth.

It then dawned on him he was in a whale's mouth. He told the Cape Cod Times: "I was completely inside; it was completely black.
---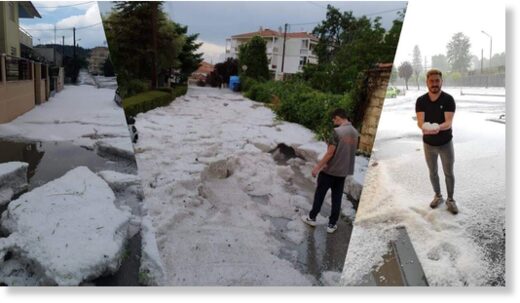 A major summer storm hit Greece, particularly Attica, where Athens is located, on Friday afternoon, battering the country with heavy rains.
The rainstorm seemed to come out of nowhere on Friday afternoon, as sunny, clear blue skies suddenly turned grey and cloudy in Athens.
Around 2:00 PM, torrential rains hit the region, bringing with them hail and lightning.
The rainstorm, which produced what is usually a month's worth of rain in Greece in just 40 minutes,
caused major traffic jams across Athens, and even left large swaths of the city without power.
---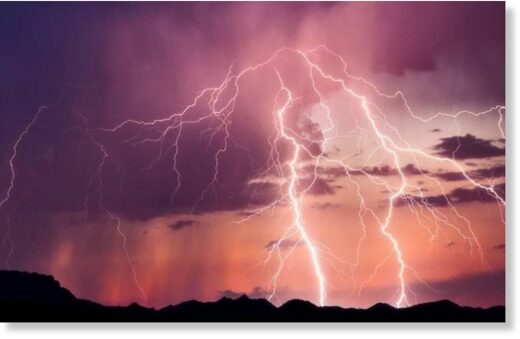 Four persons died after lightning struck them near Fatuha railway station in Patna on Friday.
A video of the incident, which has since gone viral on social media, shows a group of men standing under a tree when lightning strikes them.
According to the police, all victims were rushed to Patna Medical College and Hospital. Two of them died on the way while another two succumbed to injuries during treatment.
Police said victims were residents of Purulia district in West Bengal and were gypsies. They had taken shelter under a tree as it was raining.
---
Paul Sims, James Somper
The Sun (UK)
Thu, 10 Jun 2021 17:23 UTC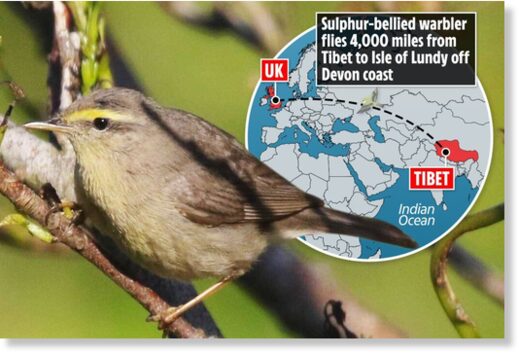 TWITCHERS hired boats to take them to an island — after a rare bird flew 4,000 miles to spend summer in Britain for the first time.
One handed a skipper £1,000 to ferry him to see the revered sulphur-bellied warbler, which had come all the way from Tibet.
Some skived off work and paid £120 an hour to hire vessels, while another drove five hours overnight.
Snapper Ashley Howe was among the few who made it in time to Lundy off Devon on Tuesday.
He captured stunning pictures of the brown and yellow bird before it flew off.
He tweeted: "Mega Views!! Sulphur-bellied Warbler on Lundy Island this evening. First for Britain."
---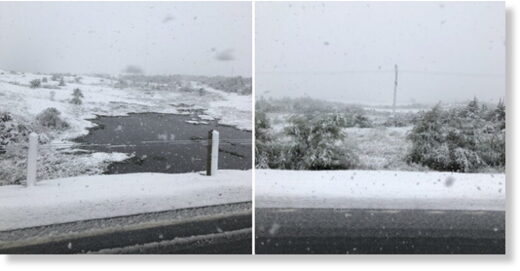 Just days after Newfoundland was bathed in temperatures in the mid to high 20°s, people were left reeling Thursday with the sudden appearance of "June-uary" weather.
Rainfall mixed with wet flakes, and was in some cases replaced with snow, as temperatures dipped near the freezing mark.
The snow began to work its way eastward across the island throughout the day, resulting in some accumulation along central and northeastern regions. Drivers were advised to use caution as conditions along roadways also deteriorated.
By mid-afternoon, photos began surfacing of thick layers of accumulation along the Northern Avalon, while areas of higher elevation throughout metro were also subjected to the late reminder of winter.
---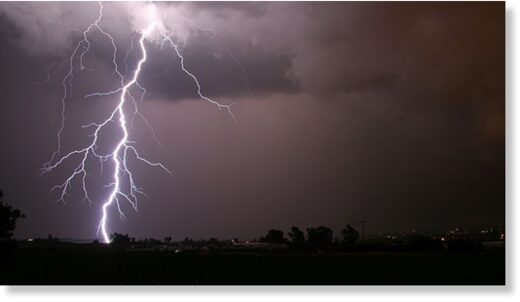 Three people were killed by lightning strikes on Thursday during a storm in Babu Dying and Nachol areas in Chapainawabganj.
The storm took place between 4pm and 5pm.
Among the deceased, Abdur Rahman, 60, and Mesbaul Haque, 45, were from Bottolahat Shonkarbati area in Chapainawabganj municipality area, and Farzana, 13, was from Alishapur village in Nachol upazila's Fatehpur union.
Moudud Alam Khan, engineer and Chapainawabganj Sadar upazila project implementation officer, said Abdur Rahman and Mesbaul Haque were struck by lightning when they were picking mangoes during the storm in Baby Dying area in the upazila's Jhilim union.
Farzana, a school student, on the other hand, was struck by lightning while she was returning home at around 4pm, said Alishapur Ward Member Abdus Sattar.
All three died on the spot, the officials said.
---