Earth Changes
USGS
Thu, 07 Aug 2008 15:03 UTC
---
A suit of armor first worn by an African fish almost 100 million years ago to withstand ancient carnivores is today providing clues to engineers designing body armor for soldiers of the future.

The armor of the fish, Polypterus senegalus, is so effective because it is a composite of several materials lined up in a certain way, the engineers state in a their analysis detailed in the July 27 issue of the journal Nature Materials.

"Such fundamental knowledge holds great potential for the development of improved biologically inspired structural materials," said lead MIT researcher Christine Ortiz, "for example soldier, first-responder and military vehicle armor applications."
---
A shift from poverty-driven to industry-driven deforestation threatens the world's tropical forests but offers new opportunities for conservation, according to an article coauthored by William Laurance of the Smithsonian Tropical Research Institute in Panama.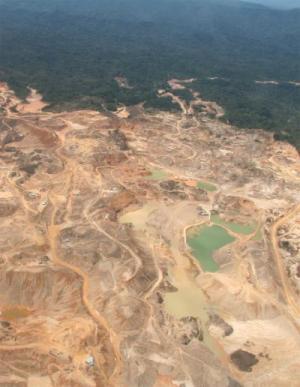 ©Rhett A. Butler
Gold mine in the Amazon rainforest.
Rhett Butler of
Mongabay.com
, a tropical-forest Web site, and Laurance argue that the sharp increase in deforestation by big corporations provides environmental lobby groups with clear, identifiable targets that can be pressured to be more responsive to environmental concerns.
"Rather than being dominated by rural farmers, tropical deforestation is increasingly driven by major industries - especially large-scale farming, mining, and logging," said Laurance. "Although this trend is pretty scary, it's also much easier to target a handful of global corporations than many millions of poor farmers."
The United Nations estimates that some 13 million hectares (33 million acres) of tropical forest are destroyed each year; but these numbers mask a transition from mostly subsistence-driven to mostly corporate-driven forest destruction, say Butler and Laurance.
---
By absorbing carbon dioxide from the atmosphere, and from the human use of fossil fuels, the world's seas function as a giant buffer for the Earth's life support system. The chemical balance of the sea has long been regarded as immovable.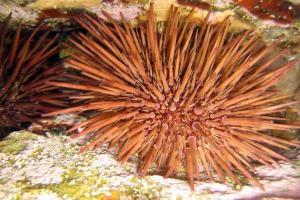 ©Vetenskapsrådet (The Swedish Research Council)
The Australian sea urchin.
Today, researchers know that the pH of the sea's surface water has gone down by 0.1, or 25 percent, just since the beginning of industrialisation just over a century ago. Jon Havenhand and Michael Thorndyke, researchers at the University of Gothenburg, along with colleagues in Australia, have studied how this acidification process affects marine animal life.
As part of the study, which is one of the world's first on this subject, they have allowed sea urchins of the species Heliocidaris erythrogramma to fertilise themselves in water where the pH has been lowered from its normal 8.1 to a pH value of 7.7. This means an environment three times as acidic, and corresponds to the change expected by the year 2100. The results are alarming.
---
UPI
Thu, 07 Aug 2008 10:59 UTC
A Miami beekeeper said he removed the second largest hive he has encountered in his 20-year career -- about 3 million bees -- from a home.

Beekeeper Adrian Valero said he was called to remove the hive after three people in the area were stung by the bees, which residents of the house said had been around for about a year, WSVN-TV, Miami, reported Wednesday.
---
PTI
Thu, 07 Aug 2008 10:19 UTC
If you think that yawning is only contagious in humans, you are wrong, for a study has revealed that man's best friend also yawns to empathise with its owner.

Previously, only humans and their close primate relatives were thought to find yawning infectious. Now, a team at London University's Birkbeck College has carried out the study and found that a dog can also catch an attack of the yawns from its master, the 'Biology Letters' journal reported.
---
A large number of dead harbor porpoises have been washing up on beaches in San Mateo County and elsewhere in the Bay Area this summer, and marine mammal experts are at a loss to explain what could be killing them.

A total of 24 harbor porpoises "12 males, 9 females, and three still in utero" have been discovered by beachcombers since early June, according to the Marine Mammal Center in Sausalito. More carcasses are likely to show up in August.

"It's the tip of the iceberg. These are open ocean animals. For every one we find dead there are probably many others that are out there," said Mary Jane Schramm, spokeswoman for the Gulf of the Farallones National Marine Sanctuary.
---
An investigation is under way after dozens of dead and dying seabirds were found on Orkney.

The birds - greater black-backed gulls - seemed to be suffering from an illness which first made them lethargic and unable to fly, then killed them.
---
KUSA
Wed, 06 Aug 2008 21:02 UTC
JEFFERSON COUNTY - A family was stunned when a mountain lion entered their home early Monday morning, killed one of their dogs right beside their bed, and carried it off into the night. The dog was a 12-year-old yellow lab named 'Scout.'
---
On Friday, fires threatened several sites of ancient culture in Istanbul as fire fighters backed by a dozen aircraft struggled to extinguish scattered blazes engulfing woodlands in the coastal tourism province of Antalya.

Fire fighters said up to 4,000 hectares (9,885 acres) of woodlands in Antalya could be destroyed if they are not contained. No deaths or injuries have been reported, but television images showed destroyed houses and fleeing villagers.

Antalya Forest Directorate spokesman Aydogan Turedi said flames were approaching an ancient Greek amphitheatre in Aspendos, 37 km (23 miles) from the Mediterranean resort of Side.
---