Spring has sprung and bees are buzzing. Brighton Illinois beekeeper Gene Reilley spends a lot of time hunting for swarms of bees. This week he scooped up 25 thousand bees from the 5th grade classroom at Delhi Elementary school in Jersey County.
Students weren't frightened. One said, "Cool very cool." Another, "There was a lot of bees."
Students were removed from the classroom when the bees moved inside through a crack in the wall which has since been sealed. No children were hurt.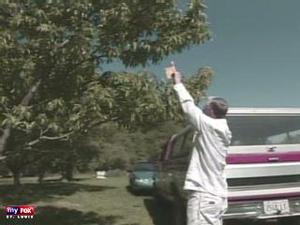 ©KTVI
Bee Keeper