Hail stones the size of cricket balls flattened about 100 huts, injured three persons and killed cattle in the Bindol gram panchayat area last night.
The storm had started around 9.30pm and grew with each passing minute till it stopped two hours later. A fresh shower of hailstones hit the area again early this morning.
"First came the wind. Strong gusts blew away roofs of tiles and tin. Then came the hailstones. As the night progressed, the size of the stones increased and they came hurtling down, some of them as big as cricket balls," said Narayan Bhowmik, a tea stall owner in Bamua, 20km from here and one of the worst hit areas. The storm left scars across a 9km radius.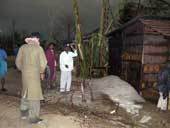 ©Nityananda Sarkar
A heap of hailstones in front of a house in Bindol