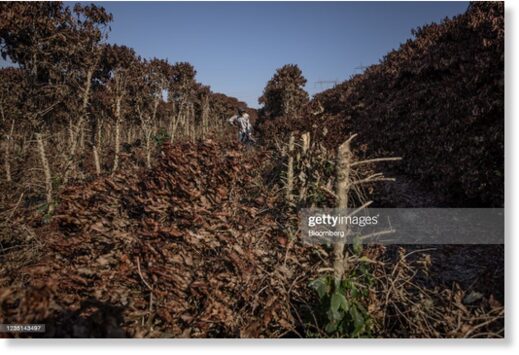 It's a typical weekday afternoon at Red Emma's coffee shop in Baltimore, Maryland. A handful of people sit chatting over wooden tables in the large open dining area.
Behind the counter, barista Najee Haynes-Follins makes an iced Americano at the machine. She's a member of the worker's co-op that owns and runs the coffee shop, restaurant and bookstore.
"What do I love about coffee?" Haynes-Follins asked. "I have ADHD, so stimulants are useful to me and so if I'm gonna focus in the morning, I'm usually drinking a cup of coffee in order to keep me a little bit in line."
She said Red Emma's coffee prices have stayed roughly the same recently. But that it might not be for long, due to
a major glitch in the global coffee supply. Brazil, the world's largest coffee exporter, was hit by unprecedented extreme weather that seriously damaged coffee crops — which may ultimately drive up the cost of coffee around the world.
In late July, southern Brazil was hit by uncommon freezing temperatures. Snow blanketed many hillsides. In coffee-growing regions, frost covered the fields. In one video shared online, a farm worker inspects coffee plants that have been devastated by the frost in the state of Minas Gerais. The leaves are dead and brown. The coffee beans are black and encased in ice.