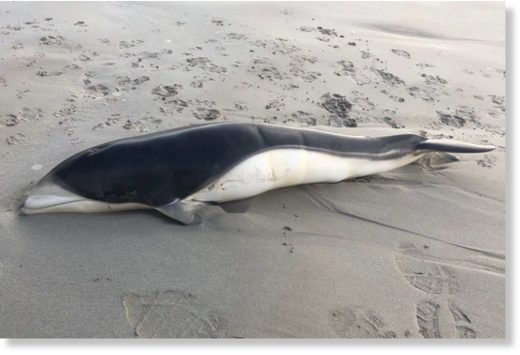 For the first time in recorded history dolphins that usually stick to deep, offshore seas have been found stranded on a Victorian beach.
Two separate southern right whale dolphins have been found dead at Port Fairy's East Beach in the state's south-west in the past couple of weeks,
but only one was able to be retrieved by authorities for further examination.
Little has been known about the mysterious species of dolphin that inhabits cool waters across the Southern Hemisphere.
The natural environment programs officer at Victoria's Department of Environment, Land, Water and Planning, Mandy Watson,
confirmed the dolphin that washed up in December was the first of its kind ever recorded in Victoria.
Three black and white dolphins, which have no dorsal fin, glide through the air above the water
The second was found in a nearby spot last week which Ms Watson described as "very unusual".