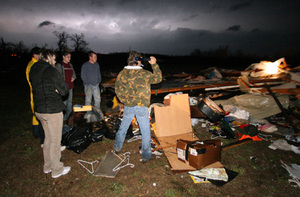 ©Mark Schiefelbein/AP
Lightning flashes through the sky as neighbors look through the wreckage of a home destroyed by a tornado near Niangua, Missouri, on Monday, January 7, 2008.
A freak cluster of tornadoes raked across an unseasonably warm U.S. Midwest, demolishing houses, knocking railroad cars off their tracks, and even temporarily halting justice in one courthouse.
Record temperatures were reported across much of the country Monday, and storms continued to pummel the nation's midsection as darkness fell. More warmth and storms were in store for Tuesday.