While flooding in California's Central Valley is "the next big disaster waiting to happen," water-related infrastructure issues confront almost every community across the country, according to engineers at the University of Maryland's Clark School of Engineering in separate reports to California officials and in the journal
Science
.
An independent review panel chaired by Clark School Research Professor of Civil Engineering Gerald E. Galloway said the area between the Sacramento and San Joaquin river floodplains faces significant risk of floods that could lead to extensive loss of life and billions of dollars in damages. The panel's report, "
A California Challenge: Flooding in the Central Valley
," was commissioned by California's Department of Water Resources.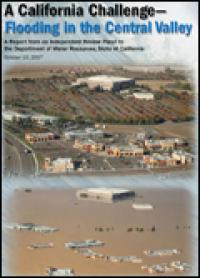 ©California Department of Water Resources
The image showing floodwaters surrounding the Arco Arena in Sacramento, Calif. on the cover of this document has been edited and is not authentic. It was made to illustrate the depth of flooding predicted if that area of Sacramento were to experience levee failure or overtopping and thus be subjected to deep flooding.