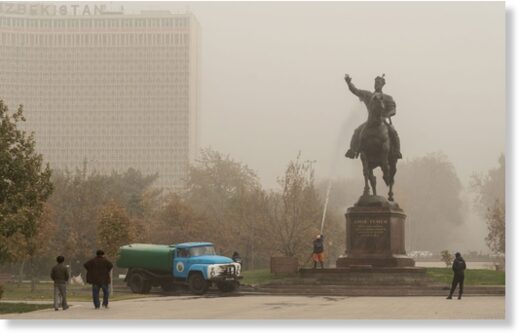 A severe sand and dust storm - the worst since meteorological records began - has struck Uzbekistan.
On the evening of November 4, a haze engulfed Tashkent and most other areas, with the exception of the most northerly region, as a cold front swept in and a strong wind blew sand and dust across the country.
"Under the influence of gusts of wind, the parched upper layer of soil rose up, creating the effect of a dust and sand haze, with a deterioration in visibility to 100-200 meters in a number of districts in the country," Uzbekistan's meteorological service, known as Uzgidromet, told Gazeta.uz.
It also confirmed a popular belief that Uzbekistan's construction boom had exacerbated the situation.
"Of course, large-scale construction works, which are under way in many regions of the country, made their contribution to the emergence of this phenomenon, inasmuch as they generate very large amounts of gritty materials."