A wildfire in the Los Padres National Forest has forced authorities to evacuate residents living in the canyon areas north of Goleta in Santa Barbara County.
U.S. Forest Service spokeswoman Kathy Good says the fire has burned roughly 50 acres of heavy brush in the foothills of the Santa Ynez Mountains. She says winds are pushing the fire down a slope toward homes in the Glen Annie and La Patera canyons.
Authorities issued a mandatory evacuation for residents in those areas.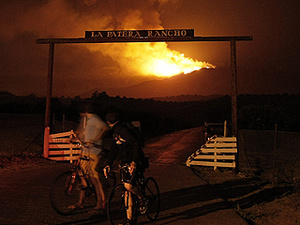 ©AP
Residents watch as a brush fire burns out of control in the Santa Ynez Mountains near Santa Barbara, Calif.