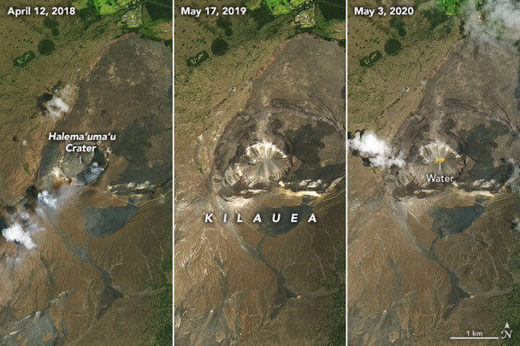 The Halema'uma'u crater on Kilauea, located in Hawaii, has been relatively quiet over the last year after
a frenzy of activity in 2018
, which all began with an explosive eruption of ash 30,000 feet into the air during May. But, since at least 2019, there has been a change that scientists believe could pose a potential danger to the Big Island. Water has started to collect in the caldera to form a lake.
A caldera is a large crater left behind in a volcano after an eruption. From 2010 until 2018, a lava lake had filled the caldera rather than water. That changed in May 2018 when the eruption caused the lava lake to drain, collapsing the caldera floor and causing a hole nearly as deep as the 1,776-foot One World Trade Center. The eruption also created a 459-foot cliff (140 meters) north of the crater.
About a year later, a helicopter pilot flying over the volcano noticed a mysterious green pool of water in the Halema'uma'u crater. A second report of the same findings from a helicopter passenger prompted USGS-Hawaiian Volcano Observatory researchers to survey the green pool of water.