Cleveland, Ohio - Researchers from the Cleveland Metroparks Zoo have discovered a rare giant turtle in northern Vietnam - a find that carries great scientific and cultural significance. Swinhoe's soft-shell turtle was previously thought to be extinct in the wild. Three other turtles of the species are in captivity, said experts from the Zoo's Asian turtle program.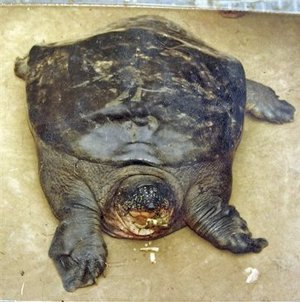 ©AP Photo/Cleveland Metroparks Zoo
This undated photo provided by the Cleveland Metroparks Zoo shows a captive Swinhoe's soft-shell turtle from Thanh Hoa province in Vietnam. Zoo researchers recently discovered one of the rare giant turtles in the wild in northern Vietnam.