Earth Changes
An earthquake with a preliminary magnitude of 6.2 struck Japan's Bonin Islands, the U.S. Geological Survey reported.


---
A 5.9 magnitude earthquake struck on Saturday at 7:44 a.m. Pacific time off the U.S. northern Pacific coast of Oregon, the U.S. Geological Survey said.

The quake was centered 112 miles west of Port Orford, Oregon, at a depth of 6.2 miles, the USGS said.


---
The severe impact of climate change in Central Asia is causing water and food shortages that could lead to regional conflicts, EU foreign policy chief Javier Solana warned.

Solana delivered a climate change and security report from the High Representative and the European Commission to leaders at the European Union summit held on Thursday and Friday.
---
An earthquake measuring 5.2 on the Richter scale struck Methoni, in the Peleponnese yesterday. There were no reports of injuries or damages. The earthquake's epicenter was in an undersea area 275 kilometers southwest of Athens and struck at 9.10 a.m. A month ago, two strong quakes with magnitudes of 6.5 and 6.4 struck the same area and were felt as far away as Italy and Egypt.
---
Without a ripple in the water, alligators dive, surface or roll sideways, even though they lack flippers or fins. University of Utah biologists discovered gators maneuver silently by using their diaphragm, pelvic, abdominal and rib muscles to shift their lungs like internal floatation devices: toward the tail when they dive, toward the head when they surface and sideways when they roll.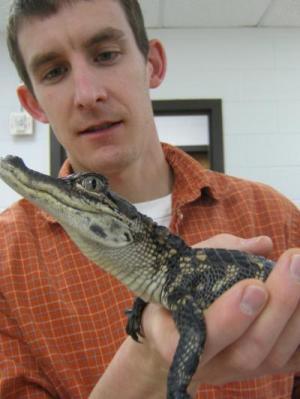 ©Hannah Chirillo
T.J. Uriona, a University of Utah doctoral student in biology, holds a juvenile American alligator. Uriona and his professor, biologist C.G. Farmer, have published a study showing how alligators use muscles to move their lungs backward to help them dive, and to one side or the other to roll.
---
The United States and Indonesia will collaborate to improve monitoring and early warning capacity of volcanic activity, in an area that is home to many people who are at risk from probable eruptions.

United States Ambassador to Indonesia, Cameron R. Hume and the Head of the Ministry of Energy and Mineral Resources' Geological Agency, Bambang Dwiyanto, signed an agreement that will bring together volcano scientists from the two countries. Dr. Purnomo Yusgiantoro, the Minister of Energy and Mineral Resources, witnessed the signing.
---
---
A tornado struck the heart of downtown Atlanta on Friday night, injuring several people and damaging numerous buildings, including the roof of the Georgia Dome as thousands watched a college basketball game, the city's mayor and witnesses said.

Nine people were taken to hospitals, one in serious condition, as a result of the heavy storm, police said.

Police evacuated the multi-story Omni Hotel, which shares a building with the CNN Center, after high winds smashed many windows and scattered debris including furniture into the street below.
---
ATLANTA - A severe storm ripped away two panels in the side of the Georgia Dome during the Southeastern Conference tournament, sending debris tumbling from the ceiling, halting the Alabama-Mississippi State game and prompting fans to flee for the exits.
---
Roger Highfield
Telegraph
Thu, 13 Mar 2008 16:09 UTC
The ability to create bee "super queens" that can shrug off disease has arisen from the discovery of how royal jelly works.

A study of royal jelly, the creamy, thick secretion used to feed honey bee larvae and groom queens, has been discovered to have a powerful effect on genes and scientists now know how to mimic its effects, which will be give them an invaluable new technology to help make resistant bee strains.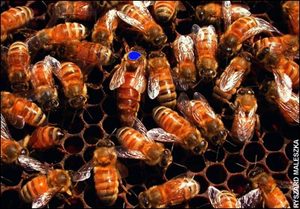 ©Ryszard Maleszka
The queen bee is indicated by a blue mark
---