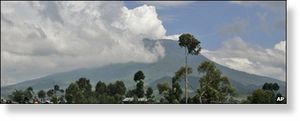 Scientists in the Democratic Republic of Congo have recorded significant increased volcanic activity around Goma in the east of the country.
Half of the city was destroyed in 2002 after the nearest of two volcanoes, Mount Nyiragongo, erupted.
Now Mount Nyamulagira, which lies 25km (16 miles) from Goma, may soon erupt.
Scientist Dieudonne Wafula told the BBC if it did erupt, there would not be an immediate threat to Goma, but some key rural roads could be cut off.