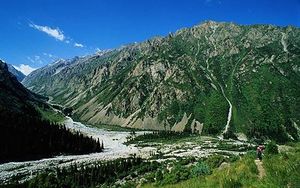 The wild fruit tree cousins of Britain's favorite domestic apples are teetering on the brink of global extinction, according to a new report.
Scientists have drawn up a 'Red List' of 44 species of Central Asian fruit trees that could soon disappear unless drastic action is taken.
Around 90 per cent of the fruit and nut forests in Kyrgyzstan, Kazakhstan, Uzbekistan, Turkmenistan and Tajikistan have been destroyed over the past 50 years.