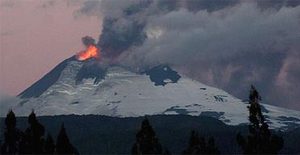 ©EPA
A view of the Llaima volcano in the La Araucania region of southern Chile.
Hundreds of residents fled their homes and spent the night out in the open after a volcano in southern Chile erupted, spewing lava and ash.
The director of the government's emergency bureau, Carmen Fernandez, today said that a state of alert remained in the area of the Llaima volcano 650km (400 miles) south of Santiago, but that no mass evacuation was yet necessary.