Earth Changes
StormChasingVideo
YouTube
Fri, 02 Jun 2023 09:35 UTC
Comment:
More
footage
:

Tornado with flying debris just east of Fort Stockton, Texas. Wide and close views of tornado with flying debris

Shot Description

00:00 - Wide shot of the tornado on the ground.
00:09 - Close up shot of the tornado on the ground.
00:18 - Pull back shot of the tornado from the tight shot to show how large it is with foreground scenes.
00:31 - Tight shot of the tornado on the ground with a huge debris collar around it with debris in the air.
00:45 - Ultra wide shot of the tornado on the ground.
01:10 - Medium shot of the tornado on the ground.
---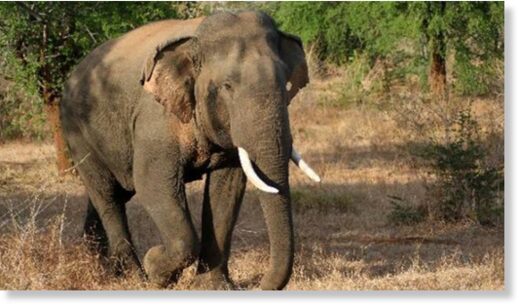 Two died while one sustained injuries after a wild elephant attacked them while picking mango in an orchard.
The incident took place at Pakut, a village about 80km from Jharkhand state capital under the Kamdara police station area of Gumla district.
The deceased were identified as Motro Singh and Juhi Kumari while the injured as Bandhana Swansi.
The Forest department team reached the spot. Injured were referred to the Khunti Hospital.
A local resident informed that an elephant suddenly reached the orchard and before everyone could run, the wild elephant attacked them.
"Singh was killed on the spot. Juhi Kumari sustained injuries in the attack and was declared dead when taken to Primary Health Centre. Swasi, a resident of Pakut village, has been referred to Khunti Hospital in critical condition, where she is being treated," the villager said.
---
---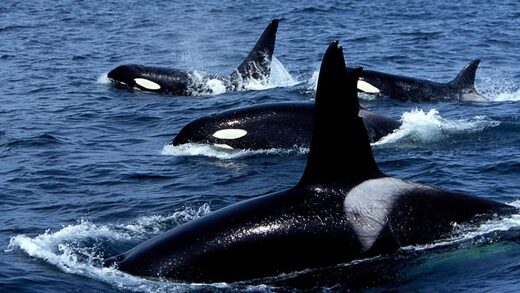 A group of orcas recently nearly sank another sailboat in the Strait of Gibraltar and followed the vessel all the way to port — marking the first-known case of the killer whales stalking a boat after destroying its rudder.
Orcas
started behaving unusually and attacking boats in 2020.
Since July 2020, there have been 744 reported encounters, 505 of which involved contact between the animals and the ship, according to the
Atlantic Orca Working Group
(GTOA). One in five interactions have prevented boats from sailing on and three have ended in vessels sinking.
Most of these interactions ended in the orcas losing interest in the boat once they'd broken its rudder. But during the recent attack on the night of May 24, the orca pod continued to stalk the yacht "Mustique" even after damaging the vessel.
It is unclear whether this marks a shift in the
orcas' learned pattern of aggressive behaviors towards sailboats
.
Comment:
It's certainly notable that this began around 2020, and that the incidents have increased in both frequency and severity. One theory is this learned behaviour has evolved, but, considering other changes in the animal kingdom, it may be that these shifts we're seeing in animal behaviour may be related to the shifts we're seeing in our planetary environment:
---
Denise Chow and Evan Bush
NBC News
Wed, 07 Jun 2023 16:39 UTC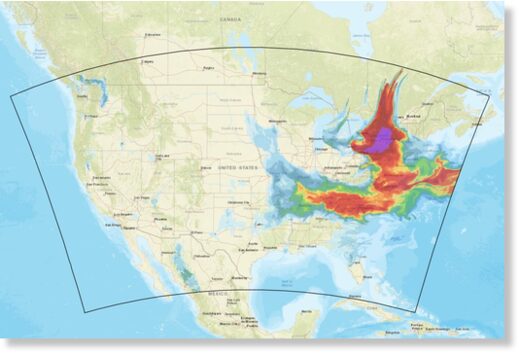 Millions of people in the eastern U.S. faced unhealthy air quality conditions Tuesday as smoke from wildfires in eastern Canada wafts over much of the country.
An air quality advisory was in effect for several regions of New York state Tuesday. Air monitoring stations in some parts of New York City showed measures considered unhealthy for anyone Tuesday afternoon.
New York City ranked second and Detroit third among major cities for the worst air quality worldwide around 1 a.m. Wednesday, according to IQAir, a Swiss air monitoring company.
"Try to limit your outdoor activities today to the absolute necessities," Mayor Eric Adams advised anyone with breathing issues on Twitter.
It was the second day of hazy skies across a wide stretch of the country. Smoke blanketed the landscape from the Ohio Valley to as far south as the Carolinas on Monday. Air quality advisories were in effect Monday in southeastern Minnesota and parts of the Upper Peninsula of Michigan, as well as in more than 60 counties in Wisconsin.
---
BBC
Tue, 06 Jun 2023 11:02 UTC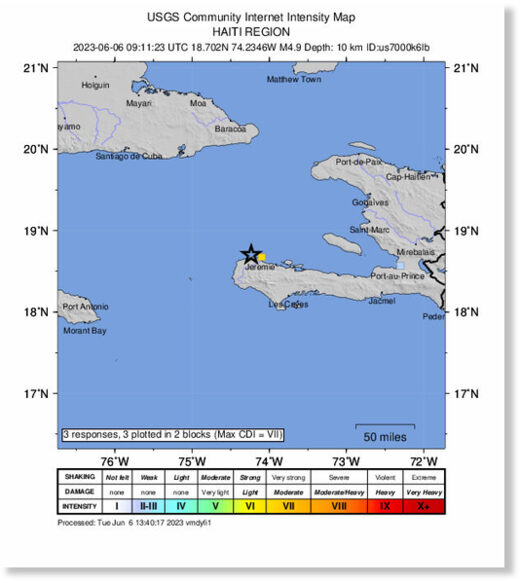 At least three people have been killed in an earthquake in the Haitian city of Jérémie, just days after floods left at least 42 dead.
The 4.9-magnitude quake struck in the early hours of the morning, the US Geological Survey said.
It came in the wake of torrential rains that have displaced more than 13,000.
Prime Minister Ariel Henry said his government and international partners were taking "urgent measures" to deal with the flooding.
The World Food Programme, an agency of the United Nations, said that it would start providing hot meals to the displaced.
---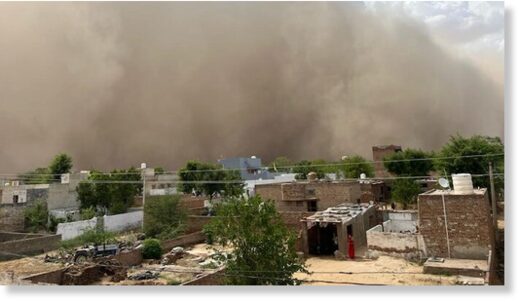 Several parts of Rajasthan saw skies turning dark on Tuesday afternoon as a fierce dust storm hit some places. The dust storm was coming from the north-west direction. The affected places include Churu, Taranagar, Sardarshahar, and Rajgarh.
The dust storm covered the skies during the day, affecting visibility and traffic. Many trees, plants, electric poles, and tin sheds were damaged.
---
Xinhua
Wed, 07 Jun 2023 08:50 UTC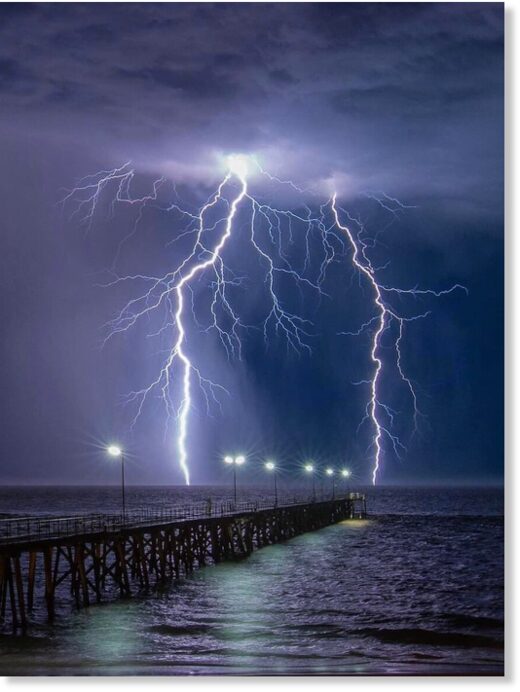 Thousands of South Australians have been left without power after the state was hit by a massive thunderstorm.
More than 65,000 lightning strikes hit Australian state of South Australia (SA) in the 24 hours to Wednesday morning as a large storm system passed through causing mass blackouts.
As of 06:00 am local time on Wednesday, more than 10,000 homes and businesses were still without power mostly in Adelaide, capital city of SA, and its surrounding towns.
Two bands of heavy rainfall hit between 09:00 p.m. and 10:00 p.m. on Tuesday night and between 03:00 a.m. and 03:30 a.m. on Wednesday morning, prompting a severe thunderstorm warning.
---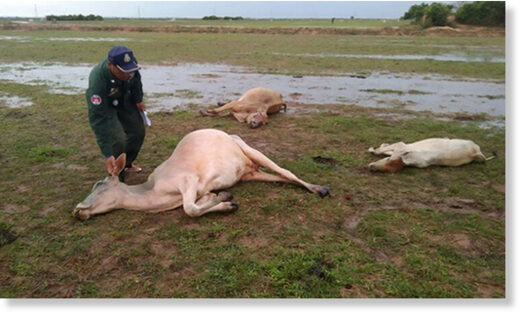 A torrential downpour accompanied by lightning killed a boy and injured four others in three different locations of Puok district in Siem Reap province on Sunday.
Four cows grazing in a field also perished when lightning struck three villages in Puok district at around 3.30pm on Sunday.
Tep Pomsen, Puok district police chief, said on Monday that the deceased and the four injured men were ploughing and seeding a paddy field in Muk Pen village in Puok district when the tragic incident happened.
The deceased was identified as Penh Vannchara, 13, while the injured were identified as Keo Rotha, 17, Vath Mithona, 33, Pich Sambath, 41, and Han Hay, 19. All of them belong to the same village except Rocha, all were severely injured.
---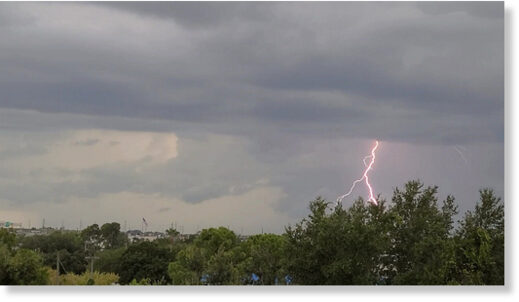 A father-son duo was killed while another child was in­jured after lightning struck them at mauza Burana of Karampur on Tuesday.
Ac­cording to Rescue-1122, a labourer Munawar along with his son Hassan Ali was toiling whereas his 6-year-old son Ghulab Ali Shah was playing nearby when suddenly lightning struck them.
They said Mu­nawar and his son Ghulab Ali died on the spot. Has­san Ali, Munawar's sec­ond son, sustained burn injuries.
The injured was shifted to a nearby hospi­tal, they added.
---