Here's a place that's unlikely ever to be a vacation spot for Yankee pitcher Joba Chamberlain: Lake Myvatn, in Iceland.
Myvatn, translating from Icelandic to English, means Midge Lake.
Midges, baseball fans recall, are the gnat-like insects that rose from Lake Erie last October and descended upon Chamberlain in the bottom of the eighth inning of a playoff game against the Cleveland Indians, distracting him into throwing two wild pitches. Cleveland scored the tying run without a hit. The Yankees eventually lost the game and eventually the series.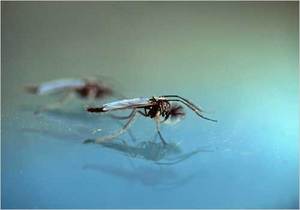 ©Arni Einarsson
A Lake Myvatn midge.