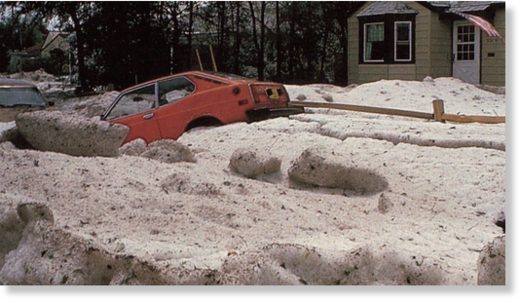 Recently, an investigation into a hailstorm that took place in Villa Carlos Paz, Cordoba Province, Argentina on February 8, 2018, reported that a hailstone some 9.3 inches in diameter may have fallen during a storm there. The Weather Channel's Chris Dolce has a
summary of the event
, which has been documented in a February paper for the
Bulletin of the American Meteorological Society
entitled "
Gargantuan Hail in Argentina."
The authors propose that hailstones larger than 6" in diameter be classified as "gargantuan".
If verified, the Argentine hailstone would surpass the U.S. record holder, an 8-inch-diameter stone collected near Vivian, South Dakota on July 23, 2010. (
That hailstone was said to have actually been 11" in diameter before a portion of it melted prior to being officially measured.
) However, the Argentine hailstone will likely never become an official record, since its size was estimated only from video evidence and not from any first-hand measurements.
On Friday night, May 22, 2020, a hailstone of 5.33" diameter was reported in Burkburnett, Texas (the same hailstone shown in
this Facebook post
). With peak U.S. hail season at hand, here is a recap (portions of which appeared in a
blog entry
I posted in April 2018) of the costliest and deadliest hailstorms in U.S. history, along with a summary of the largest hailstones yet observed in the United States.