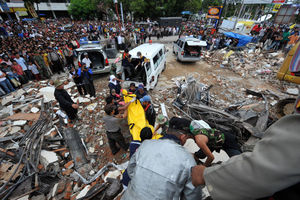 At least 1,100 people have died in the earthquake that struck the Indonesian island of Sumatra on Wednesday, the UN humanitarian chief has said.
John Holmes said many hundreds more had been injured, and both figures were set to rise further.
Rescuers are working into the night to find survivors in the rubble of hundreds of collapsed buildings.
The 7.6-magnitude quake struck close to the city of Padang, the capital of West Sumatra province.
The earthquake brought down hospitals, schools and shopping malls, cut power lines and triggered landslides.