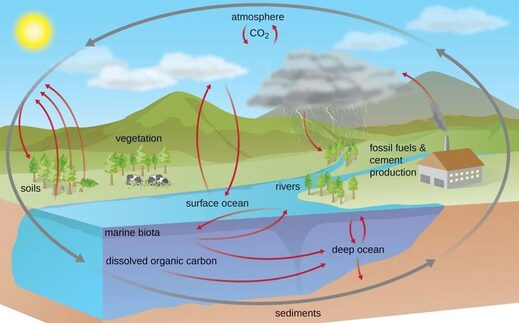 Two important papers have recently been published that question the extent to which humans are causing global warming by burning fossil fuel and releasing carbon dioxide into the atmosphere.
The works will of course be ignored by mainstream media outlets, but they represent further evidence that a more nuanced view of human-caused or anthropogenic warming is gaining traction among scientists, tired of working within the political constraints of 'settled' science.
In a paper to be published next month in the journal
Health Physics
, three physics professors led by Kenneth Skrable from the University of Massachusetts examine the atmospheric trail left by CO
2
isotopes and
conclude that the amount of CO
2
released by fossil fuel burning between 1750 and 2018 was "much too low to be the cause of global warming".
Three carbon isotopes are found in the atmosphere,
12
C,
13
C and
14
C. The latter is produced by cosmic rays and is in a constant state of activity but the other two are contained in the gas entering the atmosphere. The carbon in living matter has a slightly higher proportion of
12
C. Although only about 4% of CO
2
entering the atmosphere every year is produced by human activity, it is said very slightly to alter the balance of the other atmospheric isotopes. As a result it is often used as 'proof' that rising CO
2
levels are primarily the result of fossil fuel burning.